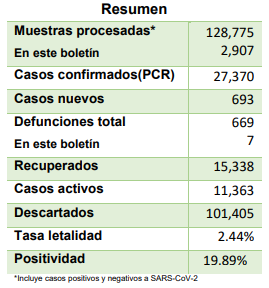 According to Coronavirus Bulletin #95 of the Ministry of Public Health's Department of Epidemiology, the Dominican Republic has 27,370 confirmed cases, 793 new confirmed cases from 128,775 PCR diagnostic tests. The number of PCR cases for the bulletin is 2,907.
The tally of deaths is now 669, including 8 new registered deaths. As stated by both Public Health Minister Rafael Sánchez Cárdenas and the director of the National Health Service, Chanel Rosa Chupany, the death tally does not necessarily reflect the deaths for the period covered by the bulletin and can be deaths that are only now being registered and occurred in the past.
As of Bulletin #95, 2,726 patients are hospitalized, up from 2,693 patients in the previous bulletin. Of these, 177 patients are in intensive care units. The number of cases in ICU has increased. The fatality rate, the number of reported deaths per...