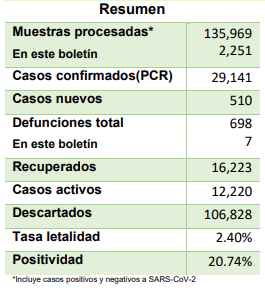 According to Coronavirus Bulletin #98 of the Ministry of Public Health's Department of Epidemiology, the Dominican Republic has 28,631 confirmed cases, 510 new confirmed cases from 135,969 PCR diagnostic tests. The number of PCR cases for the bulletin is 2,251 down from 2,973, the previous day.
The tally of deaths is now 698, including 7 new registered deaths, that compares to the 9.85 previous 14-day average.
As of Bulletin #98, 2,744 patients are hospitalized, down from 2,839 patients reported in the previous bulletin. Of these, 181 patients are in intensive care units. The fatality rate, the number of reported deaths per number of confirmed cases, is 2.40%, down from 2.42% in the previous bulletin. Fatality per million inhabitants is 66.80.
Previous bulletin results have been:Bulletin #97: 28,631 confirmed cases, 695 new cases, 691 deaths, new reported deaths...