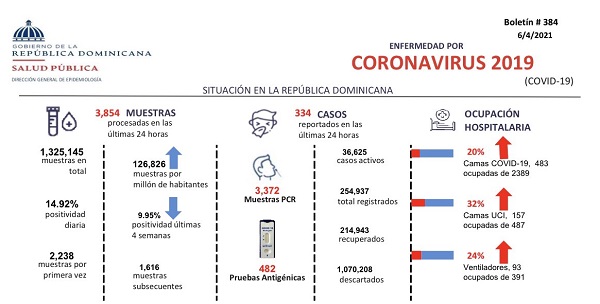 The Ministry of Public Health's Epidemiology Department Coronavirus Bulletin #384 reports 168 new PCR cases for the Tuesday, 6 April 2021 deadline. The cases compare to the 7-day nationwide average for PCR confirmed cases that is 315.
As per Bulletin #384 with the deadline of 6 April 2021, the Ministry of Public Health has registered 254,937 confirmed cases since the first case on 1 March 2020. Labs carried out 2,238 first PCR tests. The number of PCR tests compares with the 14-day average now at 2,683. The country can process 14,000 PCR tests a day.
The 4-week positivity rate is 9.95%, down from the previous day. The 24-hour positivity for the day is 14.92%, up from the last day. The number of reported active cases increased slightly to 36,544, up (+81) from the previous 24 hours. The active cases had been declining.
Despite the reduction in curfew hours and the...