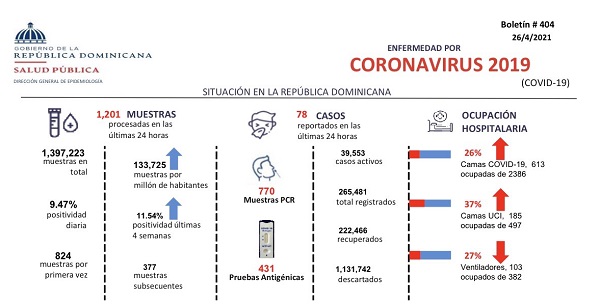 The Ministry of Public Health's Epidemiology Department Coronavirus Bulletin #404 reports 78 new PCR cases for the Sunday, 26 April 2021 deadline. The low number of PCR tests reflects the government disposition that only allows one PCR test per year in effect as of 23 April 2021. The cases reported compare to the 7-day nationwide average for PCR confirmed cases that is 519.
As per Bulletin #404, with the deadline of 26 April 2021, the Ministry of Public Health has registered 265,481 confirmed cases since the first case on 1 March 2020. Labs carried out 824 first PCR tests. The number of PCR tests compares with the 14-day average now at 3,093.
The nationwide 4-week positivity rate is 11.54%, up from the previous day. The 24-hour positivity for the day is 9.47%, down from the day before.
The number of reported active Covid-cases dropped to 39,553, down (-31) from the...