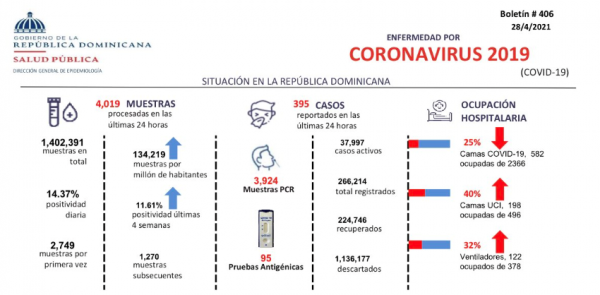 The Ministry of Public Health's Epidemiology Department Coronavirus Bulletin #406 reports 395 new PCR cases for the Monday, 28 April 2021 deadline. The cases reported compare to the 7-day nationwide average for PCR confirmed cases that is 468.
As per Bulletin #406, with the deadline of 28 April 2021, the Ministry of Public Health has registered 266,214 confirmed cases since the first case on 1 March 2020. Labs carried out 2,749 first PCR tests. The number of PCR tests compares with the 14-day average now at 2,926.
The nationwide 4-week positivity rate is 11.61%, up from the previous day. The 24-hour positivity for the day is 14.37%, up from the day before.
The number of reported active Covid-cases dropped to 37,997, down (-883) from the previous 24 hours. Cases had been increasing after the Easter holidays and with the population's general greater mobility...