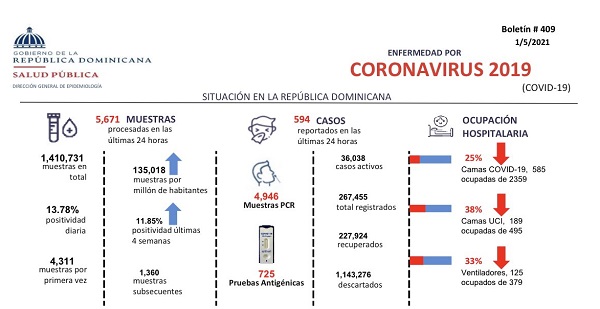 The Ministry of Public Health's Epidemiology Department Coronavirus Bulletin #409 reports 594 new PCR cases for the Saturday, 1 May 2021 deadline. The cases reported compare to the 7-day nationwide average for PCR confirmed cases that is 370, down significantly now that the government is only picking up the tab for one PCR free test a year per insured person.
As per Bulletin #409, with the deadline of 1 May 2021, the Ministry of Public Health has registered 267,455 confirmed cases since the first case on 1 March 2020. Labs carried out 4,311 first PCR tests. The number of PCR tests compares with the 14-day average now at 2,787.
The nationwide 4-week positivity rate is 11.85%, up from the previous day. The 24-hour positivity for the day is 13.78%, down from the day before.
The number of reported active Covid-cases dropped to 36,038, down (-69) from the previous 24 hours...