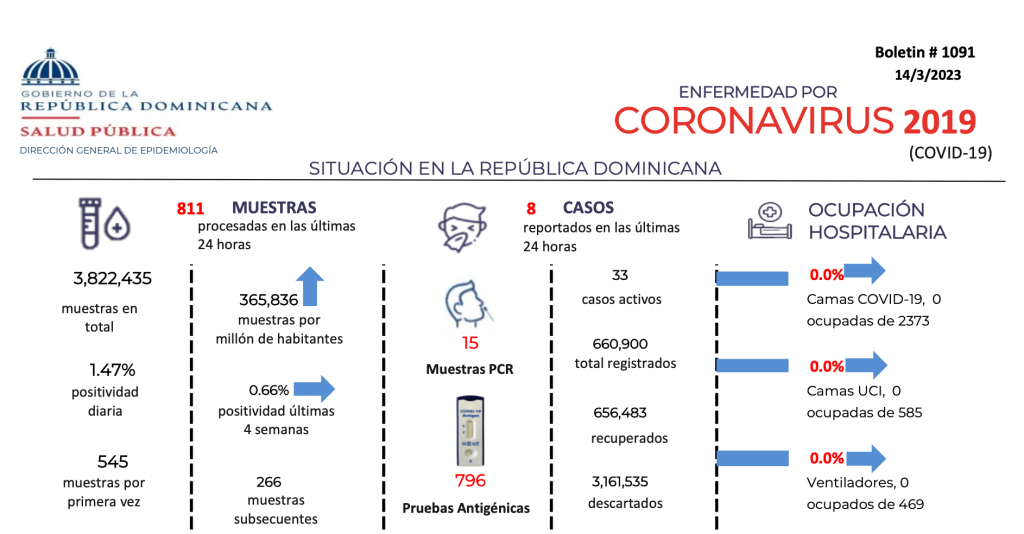 The 4-week Covid-19 positivity rate is now at 0.66%, with the 24-hour positivity rate at 1.47%, as per Covid-19 Bulletin #1,091 dated 14 March 2023. The downward trend in cases continues.
The number of Covid-19 registered cases in the Dominican Republic for Bulletin #1,091 was 8, resulting from 545 first time Covid-19 lab tests, and 15 PCR tests. The seven-day average of lab-reported cases is 7. With very few exceptions, most cases are mild and are treated as a cold at home.
Most people are just seeing Covid as a seasonal cold. The Ministry of Public Health encourages people to get a third, fourth or fifth vaccine that are available for free in the Dominican Republic. The symptoms are a cough, runny nose and fever.
The number of active cases is at 40 for bulletin #1,091. The seven-day active cases average is now 50.
Except in hospitals, every day less people wear facial masks in the...