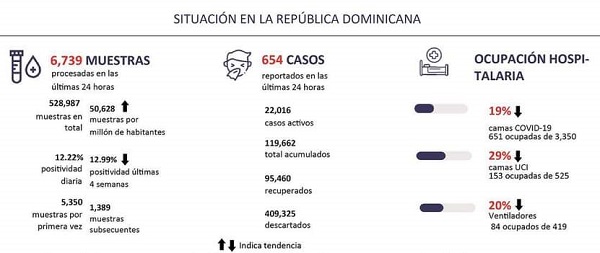 The Ministry of Public Health's Epidemiology Department Coronavirus Bulletin #209 reports 654 new confirmed cases. 5,350 first PCR tests were carried out in time for the bulletin deadline. The 14-day average is 3,649 tests.
The 24-hour positivity rate is now at a relatively low 12.22%. The 4-week positivity rate continues to decline and is at 12.99%. The 26 September bulletin (#192) reported a positivity rate under 10%, but this has climbed back to around 12% after the curfew reduction.
The Ministry of Public Health reports active cases are now at 22,016, up 132 cases from 21,884 for the previous report.
The Abinader administration has obtained an extension of the National State of Emergency through December. The extension passed on 14 October in the Chamber of Deputies and the Senate.
The Ministry of Public Health is concerned that home and friends gatherings and...