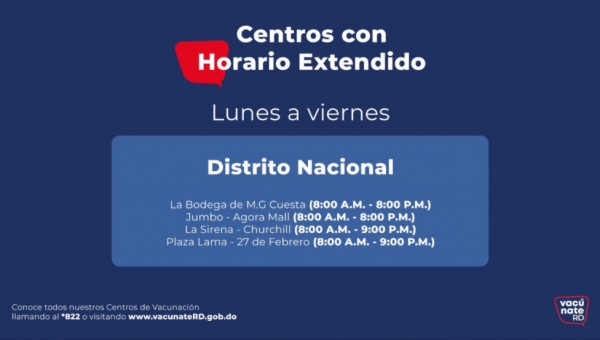 Several major stores have habilitated Covid-19 vaccination areas. While vaccination at around 1,000 sites nationwide is open from 7am to 4pm, people can get vaccinated in the evening at these special centers in the capital city.
The centers in the National District that are staying open late from Monday to Friday are:La Bodega, south of the Supermercado Nacional of Av. 27 de Febrero. 8am to 8pm.Jumbo at Agora Mall on Av. Abraham Lincoln. 8am to 8pm.La Sirena on Av. Winston Churchill, from 8am to 9pm.Plaza Lama at Av. 27 de Febrero, 8am to 9pm.
There are also vaccination sites at Agora Mall and Carrefour superstore.
In addition, there are vaccination centers located at universities, schools, social clubs, even at the Punta Cana International Airport.
Read more in...