The construction of the Ámbar Highway, which will connect Santiago to Puerto Plata in 27 minutes, has not started because the various studies that have been carried out have not been able to determine that enough traffic will use the road to maintain the highway. That information was presented this Monday by the DGAPP's executive director, Sigmund Freund, who also indicated that the government would need to make a capital investment at the time of construction of the work. In that sense, he argued that the reality of the highway is that all roads and infrastructure projects in general are run so that they can be sustainable with the traffic they generate. That is, the vehicles that drive on the highway are the ones that have to pay for the financing, operation of the highway, and major and minor maintenance. The president (Luis Abinader) has not said that the work will not go ahead, but that he simply cannot launch the highway until a reasonably accurate and clear model is found that guarantees transparency and that the interests of the state are not harmed.
The other side of this case.
The former president of the Association for the Development of Puerto Plata, Jhonny Tavárez Capellán, assured on Wednesday that there are sectors that are against the development of the province of Puerto Plata and that they are against the government Luis Abinader building the highway to Puerto Plata which would connect Santiago to Puerto Plata in less than 30 minutes.​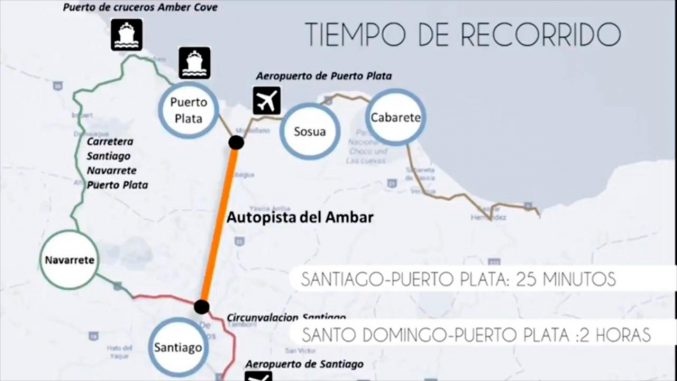 The Ambar Highway​
Jhonny Tavárez Capellan, who is also the Provincial Director of Health, stressed that the construction of this important road will contribute to the motorization of the region's economy as it will generate new investment and boost tourism. I've seen sectors that don't want Puerto Plata to continue with the booming development that's been going on in recent years and are against the Ámbar highway, but this work would be the best thing that can happen to our province.
In addition, the prominent doctor from Puerto Plata called for the construction of four lanes from Playa Dorada to Sosúa and the Cabarete bypass to complement the Ámbar highway. In his opinion, the road infrastructure will not only allow connecting Santiago and Puerto Plata in about 28 minutes, but will shorten the journey from Santo Domingo to Puerto Plata to two hours.​