Pro-Bono Demolition Hobbyist
Jul 24, 2004
40,964
922
113
I posted this before but it got nuked in the Great DR1 Database Meltdown. Some folks saw it and wondered where it went. I?ve received several PM about it so I?ll repost.
We?ve all seen those cheesy late-nite TV commercials with products just too good to believe. Like:
And, of course, who could resist the:
No doubt standard equipment for every household. :cheeky:
But this isn?t about them. This is about the: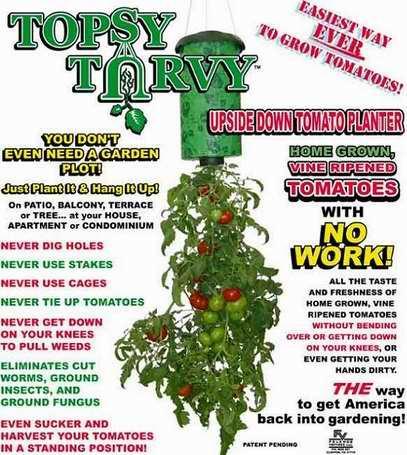 We tried to grow tomato plants at our old house. We had OK success, but the poor, rocky soil full of embedded construction debris, bugs, birds and assorted issues made the crop less than spectacular, not to mention somewhat labor intensive.
In March we took a trip to the states, FL. While in a CVS pharmacy we came across a ?clearance? table that had two of the Topsy Turvey Tomato Growers for $3.99. So being in Full Impulse Shopping Mode we bought them both, and bought a variety of tomato seeds from Home Depot.
In April we sprouted the seeds and planted them in small containers. When they were 4? tall and just starting to split their stalks, we transplanted some into pots and others into the Topsy Turvey growers. We followed the instructions exactly. The process is very simple and takes barely 10 minutes each. We hung them in direct sun as best as we could. We water every day and fertilize with water soluble fertilizer every two weeks. They cannot be over watered. Beyond watering/fertilizing the only work required is occasional pruning of non-productive stalks. That?s it.
Here are the plants after a month-
Pots: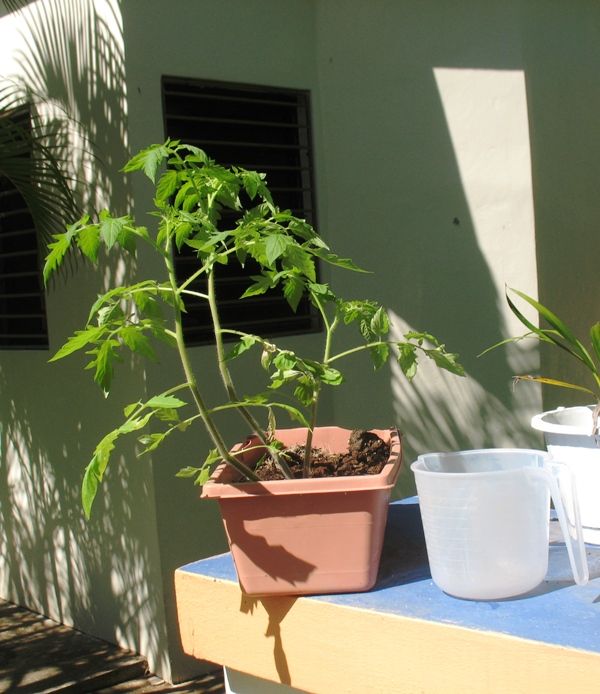 Topsy Turvey:
The measuring cup is there to give an idea of comparative scale.
Here is one of the TT?s, photo taken 2 weeks ago just after a large harvest of tomatoes (I wish I had planned in advance and taken pics of the red tomatoes on it):
The pots are doing OK, but are a fraction of the size and volume of the TT's.
We did have one problem: a caterpillar with a voracious appetite that looks like a stalk, perfect camouflage, the dreaded tobacco hornworms:
We had three of these guys who did considerable damage in 3 days before we found out why. Now we know, and know what to look for. Easily tamed with a mild insecticide.
In a nutshell, we?ve enjoyed dozens and dozens of fresh tomatoes this summer. The TT far exceeded our expectations in ease, growth and volume of tomatoes. We?ve had fruit from May through the present and new growth is still coming even though the photoperiod is shortening.
We?ll definitely do it again next year, but with 4 instead of two. We love tomatoes. There is a system made for strawberries we?ll also consider, maybe doing 2 (if we do strawberries, we?ll do just 3 tomato units.) And we?ll set up a different growing/watering system made of 4x4?s similar to this:
But we?ll add a simple pvc watering system so they can be hung higher and easily watered. And we won't use any pots.
Here is the system for strawberries:
All-in-all, an outstanding product, super easy to use, easy to maintain and very productive. Apartment dwellers may even be able to set them up on your balcony if it gets enough direct sunlight. Highly recommend for folks who would like a little easy vegetable gardening.