Administrator
Staff member
Jan 9, 2009
21,448
3,651
113
Demand the RD Consulate in New York to lower prices of services​
NEW YORK.- Dominicans grouped in different organizations demand that Consul Eligio Jáquez review the high prices of consular services, considering them the most expensive in the world.
"The consul must adjust these prices to the catalog published on the website of the Ministry of Foreign Affairs, since the difference with current costs is great," they said in a document after a meeting.
In the document delivered to journalists, they indicated that despite this situation, the Consul boasts in the press media claiming to have lowered prices.
"There are services that must be free of payment and yet in the Consulate they have assigned and very expensive values," they indicated.
They also asked to reduce the gap of misinformation, disconnection and seek effective interaction with the Creole community in the states under consular jurisdiction (New York, New Jersey, Connecticut and Pennsylvania).
"It is urgent to strengthen and reformulate the programs for the repatriation of corpses to the DR, scholarships and exchanges for students, care and assistance to Dominicans deprived of the law and confined in correctional centers in the states under their jurisdiction," they claimed in The document.
They explain that the consulate must improve communication channels with the diaspora that remains orphaned of real information, as well as the adoption of a fast and efficient interaction of telephone communication (212-768-2480 and 929-394-5178), because the calls remain in the air and are not answered.
The meeting was attended by Dayanara Borbón, from Quick Action; Ebelin Rodríguez, from Somos Pueblo USA; Ricardo Fajardo, priest of the Catholic Church "Espíritu Santo en El Bronx".
Likewise, Radhamés García, from Loma Miranda; Gustavo Francisco, from the Central General of Taxi Drivers (CGT); Radhamés Rodríguez, from the United Winemakers Association of America (UBA); and Belgium González, of the Homeland for All Movement (MPT), among others.
Computer translated from: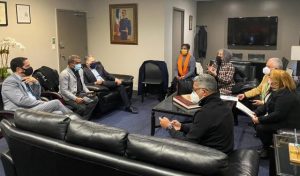 NUEVA YORK.- Dominicanos agrupados en diferentes organizaciones demandan del cónsul Eligio Jáquez revisar los altos precios de los ...
almomento.net