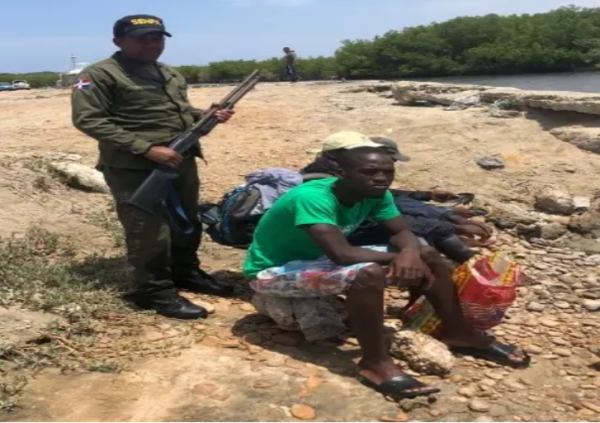 Haitians caught fishing for prohibited species in Monte Cristi's protected area were sentenced to preventive detention. The Ministry of Environment reports that four days after three Haitian nationals were caught illegally fishing in Cayo Monte Chico, belonging to the Cayo Siete Hermanos protected area in Monte Cristi, the accused were sentenced to one month of preventive detention as a coercive measure.
Judge Javierka Antonia Gómez of the Permanent Attention Office of the Judicial District of Montecristi imposed the measure against "Willin, Jean and Junior" for violating Environment Law 64-00. This is a first because Haitian marauders usually were just set free. The problem with many of the Haitians caught violating Dominican environmental regulations is that they are undocumented and most do not have any legal identity. So it has been difficult to take these to justice.
The arrested Haitians were in possession of a green turtle (Chelonia mydas), whose capture is prohibited because it is a vulnerable species protected by the Convention on International Trade in Endangered Species of Wild Fauna and Flora (CITES).
The turtle had a wound on its neck. In addition, a container with fish that are protected species, including parrotfish, was seized. The capture of these fish violates Decree 418-21 that prohibits their capture and commercialization until 2023.
The authorities of the National Environmental Protection Service (SENPA) and Ministry of Environment also seized the 18-foot boat used by the Haitian fishermen during the operation on Saturday, 3 September 2021.
Environment Minister Orlando Jorge Mera says the ministry will continue to enforce the laws to preserve the country's natural resources.
Cayo Monte Chico is part of the Cayo Siete Hermanos wildlife refuge, a protected area that covers 114 square kilometers, possesses spectacular beauty and serves as a refuge for numerous species.
Read more in Spanish:
Ministry of Environment

El Caribe
El Dia
10 September 2021