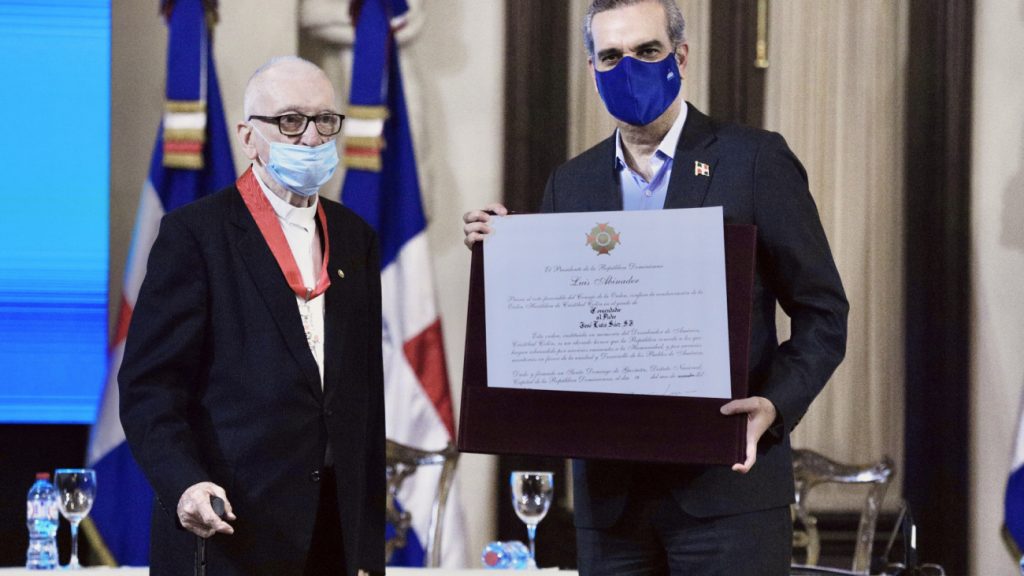 President Luis Abinader honored Father José Luis Sáez with the Heraldic Order of Christopher Columbus in the rank of Commander (Decree 734-21).
Father José Luis Sáez was born in Valencia, Spain, on 21 September 1937 and moved to Santo Domingo in 1954, where he resumed his studies to obtain a bachelor's degree in business in 1956. He then entered the recently opened Faculty of Economics and Finance at the University of Santo Domingo.
On 30 May 1967 he was naturalized as a Dominican. In 1970 he was ordained in the country as a priest of the Society of Jesus. For almost 15 years he was a professor of cultural history at St. Thomas Aquinas Seminary.
Since 1999, Father Sáez has been a full member of the Dominican Academy of History, where he has served as secretary.
The award on 18 November is his second from the Dominican government. On 31 March 1999, then President Leonel Fernández awarded him the Order of Duarte, Sánchez and Mella in the rank of Knight.
After taking film courses at the UASD, Sáez won by competition the chair of Film Journalism at the School of Journalism of the same university, and was active as a professor until 2014.
Also present at the event were Antoliano Peralta, legal consultant to the Executive Branch; Culture Minister Milagros German.
Also present were intellectuals Miguel Reyes Sánchez, José del Castillo, Manuel García Arévalo, Mateo Morrison, Plinio Chahín, Eugenio Pérez Montás, Roberto Cassá, Santiago Castro Ventura, Carlos Andújar Persinal, Herbert Stern, Ilonka Nacidit-Perdomo and José Enrique Delmonte.
Also, Raymundo González, Sheilly Núñez, Welner Féliz, Alberto Despradel, Juan Daniel Balcácer, Fernando Pérez Memén, Ramón Saba, Luis Scheker Ortiz, Basilio Belliard, Leiby Ng, Marivell Contreras, Lucía Amelia Cabral, Rafael Peralta Romero, Fabio Herrera Roa, Johan Bueno Polanco and Father William Rodríguez.
Read more in Spanish:
Presidency
19 November 2021