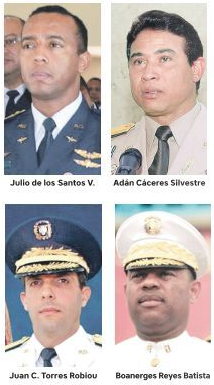 General Juan Camilo de los Santos Viola, arrested as the Operation Coral 5G corruption case, was serving as chief of security of former President Medina. He became head of security when Major General Adan Caceres Silvestre was arrested and sent to preventive custody accused of corruption earlier this year.
In the 49 simultaneous raids carried out for Operation Coral 5G, the former head of the Specialized Tourism Security Corps (Cestur), General Juan Carlos Torres Robiou and Air Force General Boanerges Reyes Batista were also arrested.
Operation Coral 5G is also incriminating Captain Franklin Antonio Mata Flores, José Manuel Rosario Pirón, colonels Carlos Augusto Lantigua Cruz and Miguel Ventura Pichardo; Erasmo Roger Pérez Núñez, Corporal Jehohanan L. Rodríguez Jiménez and César Félix Ramos Ovalle.
Captain Franklin Antonio Mata was a bodyguard of former President Danilo Medina. Previously he served as security chief of former Senate president, the late Reinaldo Pared Perez since 2006. In 2014, Captain Mata Rosado was appointed as general director of Dredges, Dams and Beacons of the Navy.
The arrested are charged with criminal association, fraud against the Dominican State, coalition of officials, forgery of public documents, laundering of assets derived from corruption and illegal possession and carrying of firearms.
El Caribe reports that one of the arrested, Air Force General Julio Camilo De los Santos Viola had used the weight of his position in the military to change the course of a river, affecting several small towns.
Operation Coral 5G is an extension of Operation Coral that also looks into corruption in the Medina administration.
Read more in Spanish:
N Digital

N Digital

Hoy

Hoy
Hoy
El Caribe
19 November 2021