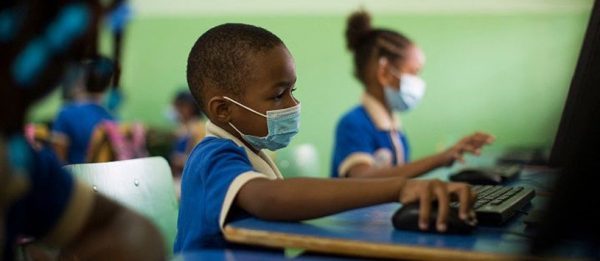 President Luis Abinader continued to recommend that parents send their children to school during the present spread of the Omicron variant. He insisted studies show the schools are the safest places for children.
Meanwhile, the Public School Teachers Association president, Eduardo Hidalgo, is against public school teachers returning to classes. He says 80% of teachers were affected by the virus during Christmas. At the time, schools were closed. The announcement has kept a majority of public school teachers out of the public schools that reopened on 11 January 2022 with low attendance of teachers and students.
Meanwhile, the United Nations Children's Fund (UNICEF) in the Dominican Republic issued a statement stressing that schools should be the last to close and the first to open during lockdown periods. The press release said there is growing evidence on the negative effects of school closures on children and adolescents and that schools do not increase pandemic numbers.
Unicef says closing schools is to leave more than two million students in the Dominican Republic without access to education. Especially in the public sector, widening the inequity gaps with the private sector.
"No non-face-to-face education, is a substitute for face-to-face learning, and this is more evident the younger the child," the statement stresses.
The president of the Dominican Medical Association (CMD), Dr. Senen Caba, said that the Public School Teachers Association (ADP) leaders are not scientists. The president of the CMD is a strong advocate of children returning to face-to-face education in schools.
Dr. Caba said that keeping schools closed does not guarantee that the educational community will not be infected. The president of the ADP says that a majority of public school teachers have the disease. But Dr. Caba says that these did not catch the virus when working in a classroom.
"They (the teachers) say that 80% are infected, where did they get it, at school, at home, in the 'teteo' or in what?," said Caba.
Meanwhile, the armed forces vocational training centers announced the resuming of classes nationwide with high attendance of teachers and students. Vocational schools have an enrollment of around 20,000. Infotep, the largest vocational program in the government, has announced it would resume in-person learning on 1 February 2022. Private schools also resumed classes on 11 January 2022, also with normal attendance.
Read more in Spanish:
Hoy
El Dia
El Caribe
El Caribe
El Caribe
El Dia
13 January 2022