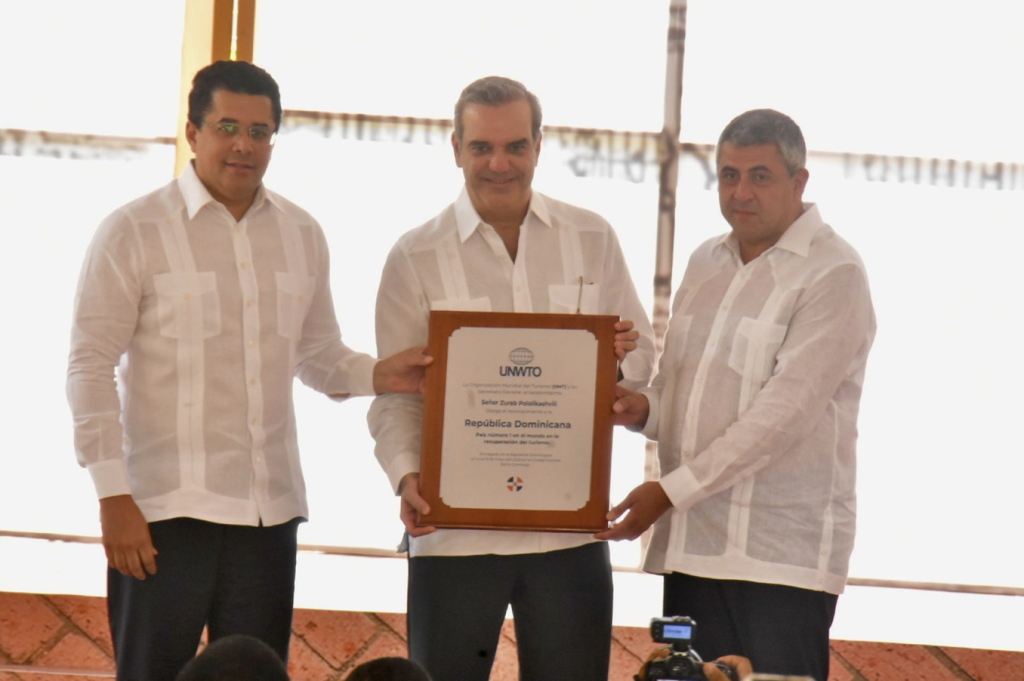 The Dominican tourism model stands out for rebounding after Covid-19 brought the industry to a halt. The country is now reaching record figures in tourist arrivals. The secretary general of the World Tourism Organization (UNWTO) was in Santo Domingo on 9 May 2022 to recognize the Dominican Republic as the number one country in the world in the recovery of the tourism industry. Zurab Pololikashvili, secretary general of the WTO, had praise for the Dominican handling of the crisis.
The President of the Dominican Republic, Luis Abinader, and the Minister of Tourism, David Collado, received the WTO award.
President Abinader said: "We are committed to the recovery of tourism, recognizing its vital importance as a source of employment and economic development of the nation. Now that the times may be more favorable, the potential that can unfold is unimaginable."
Tourism Minister Collado attributed the success of the recovery to the political decision of President Abinader and to local innovation, entrepreneurship and new destinations, which are the basis for the joint effort between the public and private sectors, which jointly ensure the guarantees and sanitary protocols to guarantee safe tourism.
"From the Tourism Cabinet we will continue to spare no effort to increase this recovery because the multiplying effect of social and economic welfare of tourism in the country, is reflected in the smile of every Dominican," said the Minister of Tourism.
The meeting took place at the Colon Park in the Colonial City and was attended by the main actors of the Dominican business community and top representatives of government institutions, gathering more than 500 people.
Read more in Spanish:
Mitur
Hoy
Diario Libre

10 May 2022