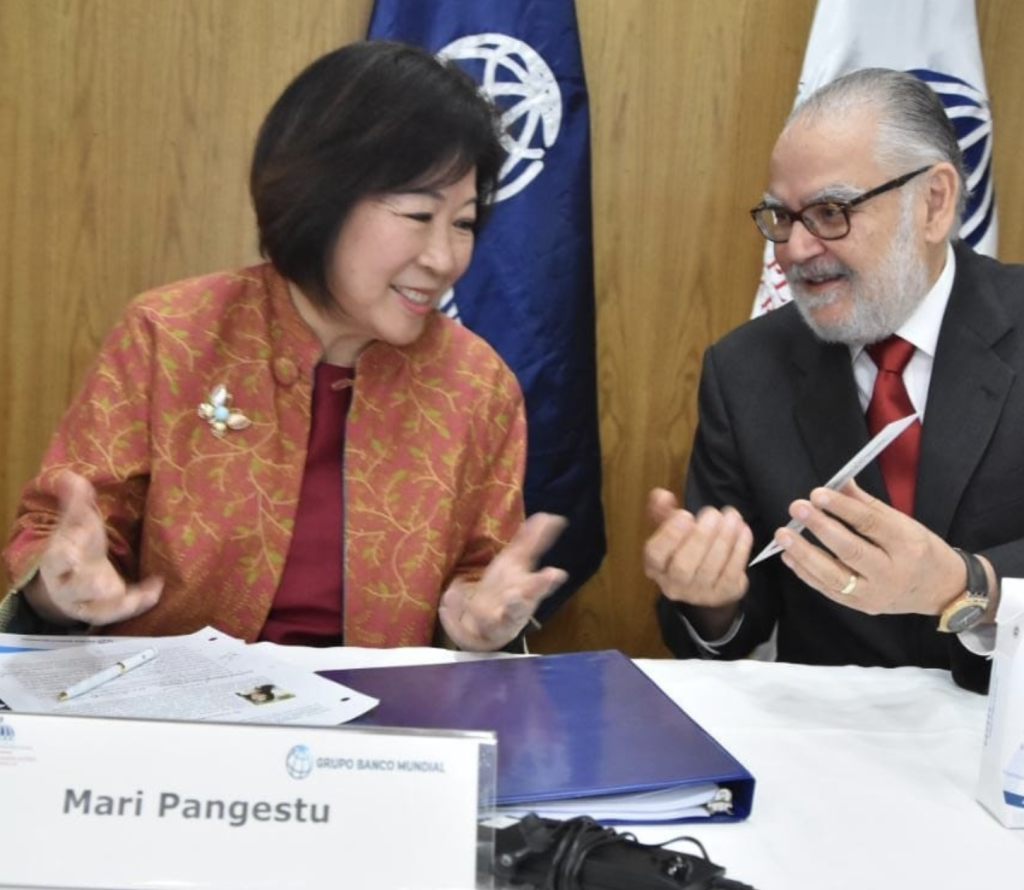 The Ministry of Economy presented the new Country Partnership Framework (Marca Alianza Pais – MAP) with the World Bank Group. Mari Elka Pangestu, World Bank managing director of Development Policy and Partnerships made the presentation with Economy Minister Miguel Ceara-Hatton. Also present was the director of the World Bank for Central America and the Dominican Republic, Michel Kerf.
The MAP framework sets the priorities for development for the next five years and contemplates funding for up to US$1.8 billon for development projects in the Dominican Republic. The key areas are electricity, water, housing, health, social protection and environment. Among the goals is to improve the quality of public services, and increase the country's resilience to climate change.
In an interview with Diario Libre, in defense of the Dominican Republic taking on more debt with the World Bank, she argued in favor of quality borrowing. "We will give $1.8 billion soon in these five years. It's to improve very basic infrastructure: electricity, water and help businesses, which will help households, which will help the most vulnerable (…) So you have to look at the benefits of incurring in that financing."
Diario Libre pointed out that with the pandemic, the consolidated public debt had increased from 50.5% of GDP in 2019 to 62.7% for the end of 2021. She responded to the question: "How do you see the level of indebtedness in a context of inflation versus growth projections?"
Pangestu: "I think they are managing the debt quite well so far. Of course, they have to make sure of two things. On the revenue side: how they can continue to grow revenues. But, with the slowdown in the economy, that will be further reduced (…) It is even more important that they have to look at the expenditure side, how to have better use of available resources, and that is why we are working with them (the government) to have more effective spending on education, on electricity reform, how to gradually eliminate subsidies and reduce the cost of subsidizing public services, for example, electricity.
"In social protection, you want to give social protection, you want to help the vulnerable in your country, and it is an important part to have social inclusion in policy, in government, but how do you do that effectively? First: by integrating all the social assistance programs and combining them with jobs and the possibility of jobs, and also giving training and improving livelihoods, improving housing."
Pangestu is a former minister of trade (2004-2011) and tourism and creative economy (2011-2014) for Indonesia.
Read more:
El Nuevo Diario
Diario Libre

World Bank
World Bank
Ministry of Economy
11 May 2022