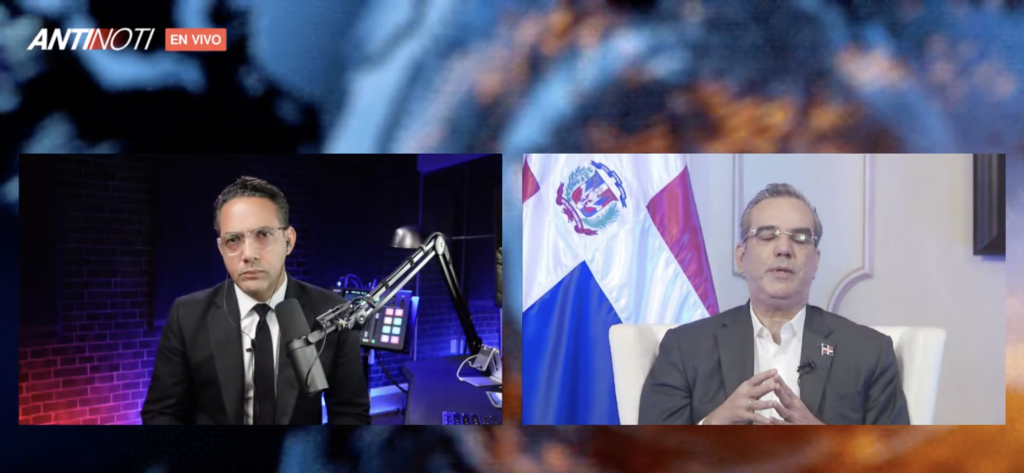 President Luis Abinader was the first guest of the Foro Publico space opened in his YouTube channel by the leading news commentator, Sergio Carlo. President Abinader responded to questions on key issues addressed by his government. He used the opportunity to promote his government. He reminded Carlo that it is easier to watch and comment on the game from the bleachers, than to be a key player.
Police reform
President Abinader asked for more time for people to see the results of the police reform actions. He says Compstat that is used by the Police in the United States is being implemented here to have trustworthy crime statistics to be able to monitor the effects of the actions being taken.
He highlighted the active participation of middle echelons in the police with the changes underway.
He said now the public prosecutors are acting separate from the Police. He mentioned the confabulation that there was in the past evidenced in the handling of the David Ortiz case.
He asked for patience, saying change takes time. He said police reform was delayed because of the pandemic when the police forces were active in keeping quarantine in place.
He discarded starting a police force from scratch, as many people have suggested. He insisted there are many good people in the police.
He pressed the point that what is different now is that there is a very active social media, the cases are not being hidden, and there will be consequences. He says this raises the crime perception among the population. These did not exist in the past when homicides were more.
Noise
President Abinader spoke of the clash of cultures between the young people who like their noise loud, and the people in a neighborhood who need to get to sleep. He acknowledged the main complaint 911 receives is loud noise. He said a police unit is confiscating loud speakers in the neighborhoods. He said more taxes are needed for more funds to further enforce the noise programs.
911 deficiencies
He explained that the failure in the delivery of 200 new ambulances contracted in October 2021 is behind the longer response time. He said only 15 of the 200 purchased have arrived due to shipping difficulties.
Inflation
He said the government is subsidizing the cost of petrol, keeping prices at a US$85 the barrel level. He highlighted that for the first time, fuel in the DR costs less than in the US.
Sergio Carlo Foro Publico Foro Publico with Sergio Carlo
Diario Libre

11 May 2022