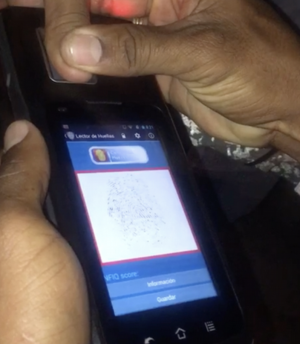 The National Police announced it is putting to use a technological platform that will allow police agents to know the criminal status of people in the same place where they are first detained. This is intended to reduce the number of persons who are taken to police detachments. The new technological tool is making it possible for police agents to purge identity cards, vehicles, firearms, faces and fingerprints, and map crime.
Police director general Maor General Eduardo Alberto Then announced that Police General Juan Gerónimo Brown Pérez led the team that created the new Integral System of Direction, Command and Control (Constantino). He explained that the system registers on-site or telephone complaints, police reports, alterations to public order, intelligence reports, preliminary investigations, police procedures and submissions to the Public Prosecutor's Office, allowing verification and documentation from the place of the facts.
He said the use of the system is implemented as part of the process of institutional transformation promoted by President Luis Abinader. "We are working tirelessly in the acquisition of equipment and software that will allow us to optimize the different databases on criminal acts, which will allow us to improve prevention," said General Then.
He said that the technological tools will be applied to investigate all the crimes that are registered in the country, since in this way the processes will be speeded up. It should be noted that with the technological support it is sought to have an updated registry with biometric photographs, fingerprints, tattoos and particular signs of persons who commit crimes.
The system integrates the complaints received by the prosecutors' offices, arrest warrants, driving orders, restraining orders and protection orders issued by the investigating judges, combining all this with the civil registry, the registry of motor vehicles of the DGII, driver's licenses, firearms, telephone and other sources of police information.
Read more in Spanish:
Listin Diario
12 May 2022