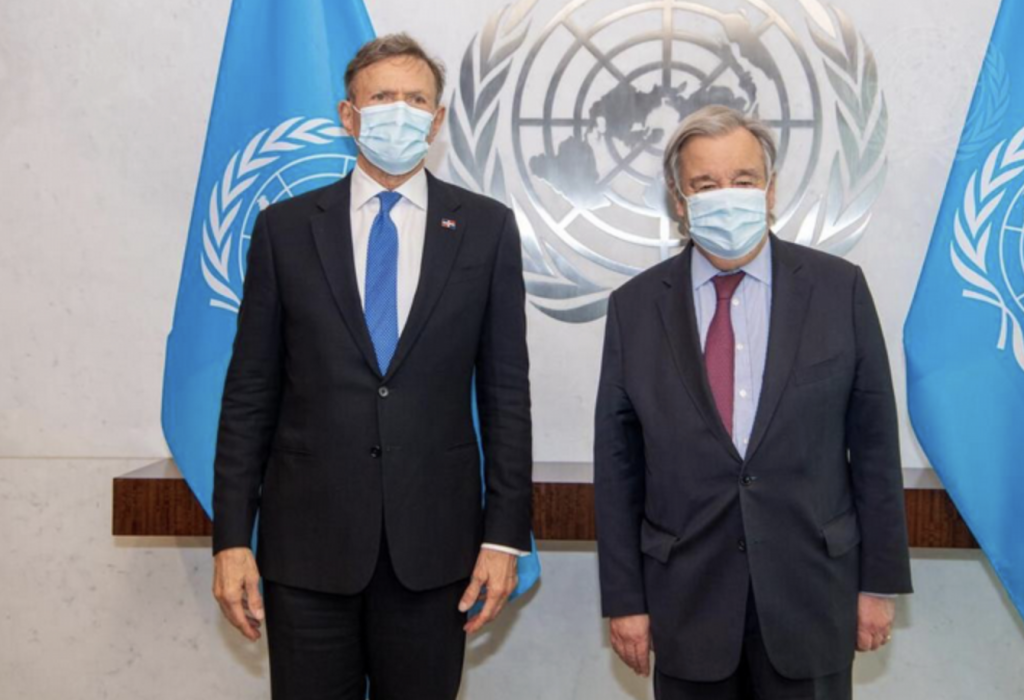 Foreign Relations Minister Roberto Alvarez was in New York to meet with United Nations Secretary-General António Guterres and press the issue of the security crisis in Haiti and its impact on the Dominican Republic.
Roberto Álvarez, accompanied by Deputy Minister of Multilateral Foreign Policy, Rubén Silié; the director of International Organizations, María Fernanda Ortega; the Permanent Representative of the Dominican Republic to the UN, José Blanco; and the Alternate Ambassador, Joan Cedano met with Guterres.
The Ministry of Foreign Relations reports that Minister Alvarez shared Dominican concerns about the growing deterioration of the internal situation in Haiti and the scarce action of the UN to contribute to stabilization in the neighboring country.
The Foreign Minister recalled the Dominican Republic's efforts to convince the Security Council to expand the capacity of the United Nations Integrated Office in Haiti (BINUH) to prevent further decomposition in Haiti. He also lamented the poor receptivity in the Security Council to the growing crisis in that country, including the activism of criminal gangs terrorizing the population.
The Dominican diplomat reiterated the commitment of the government of President Luis Abinader to the United Nations and his decision to continue collaborating with the agenda of the international organization for the sake of international peace and security.
The Ministry of Foreign Relations said that Secretary Guterres expressed how fruitful the bilateral meeting held with President Abinader at the Summit of the Americas was for him, noting that this conversation contributed to give him a better understanding of the Haitian crisis, which could bear fruit in the short term.
The Secretary-General thanked the Dominican Republic for its excellent participation in the various UN bodies, including the Security Council, of which the country was a member in 2019 and 2020.
Read more in Spanish:
Ministry of Foreign Relations
Listin Diario
Listin Diario
22 June 2022