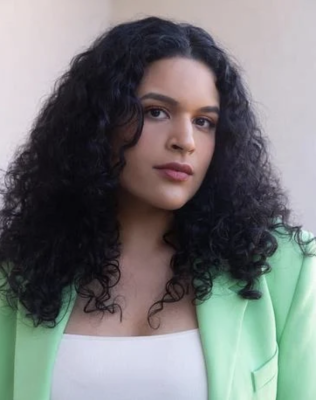 Born and raised in Santo Domingo, actress, writer and director Gabriela Ortega is now directing the second season of the series "Lunchpad", for the streaming platform Disney+. In an interview with Listin Diario she explained how she landed a promising career in the very competitive world of acting and directing in the USA.
She credits her start with her professors in Santo Domingo. She took acting and improvisation classes with Laura García Godoy and was one of the first graduates of Amaury Sánchez's Academy of Artistic Formation (AFA). At the same time, she played roles in the theater and in short films. She also wrote short stories and poetry, a talent she still enjoys exploiting.
She then landed a scholarship to study acting at the University of Southern California. Ortega said that upon arriving at the university, she was fascinated by its film school at the university.
Studying abroad was a challenge for her because she was the only Latina student in her group and she immediately realized that "there they have an idea of who you are, they label you and underestimate you." Learning about that reality was for her "a process to educate people about stereotypes (…) it was a journey of education in every sense," she told Listin Diario.
For her, the Anglo-Saxon view of Latinos in film is still very black and white, and she wants to "show the more colorful layers" of that collective. "I think Caribbean culture and Dominican culture in particular has a lot to offer, a lot to tell, and this is a great opportunity because more content is being made than ever," Ortega explained.
The actress considered that the film industry in the Dominican Republic has all the resources to make great films but "our stories have not yet been globalized." She understands the country could take advantage of the boom in Caribbean and Dominican culture in international productions to position more national productions.
"When I arrived in the United States, people told me that Dominicans speak badly because we cut words and now they use our slang (…) the truth is that we are in fashion, but we are not benefiting from it," said Ortega.
She says she wants to take her production house, "Jevita Films" to the Dominican Republic to contribute her talent and skills to the local industry.
"I am making a space here, but I have always wanted to be a bridge between my country and this North American industry that is huge, I want to bring my production house to the DR," she says.
The big gamble of her career came last year, when she received a call from the Disney+ platform informing her that she had been chosen to director of one of their series. The journey to get to that moment was described by Gabriela as "a very crazy and fun experience".
The young woman said that during the pandemic, she began recording things, volunteering on many film sets and putting together her own portfolio, with the help of her peers.
With that portfolio, Gabriela won the Rising Voices 2021 grant, a space that seeks film producers and directors in the United States but of other nationalities. She explained they gave her US$100,000 to produce the short film "Huella." She highlighted that she had been doing things with practically no budget and set out to make the best she could out of it.
That audiovisual project was presented at several festivals, including Sundance, where it won first place in its category. She became only second Dominican to present a film at that event.
"That recognition helped me to start applying for bigger projects and that's how I found out about this Disney+ project," she said.
Gabriela said the platform was looking for directors from different backgrounds. After several weeks of auditions and interviews, finally, in November 2021, she was chosen to direct the miniseries "Lunchpad."
The series began its pre-production stage in February 2022 and could premiere in the first quarter of next year. She will direct one of its six episodes.
She advises young people to prepare for when the opportunity comes their way. "Study where the industry is headed, explore and do things with what you have," she said.
She mentions that to land the project with Disney, previously she had to make more than five documentaries alone and without resources, using only her cell phone. One of those documentaries was "Papi", which was acquired by HBO this year.
She also invited young people to make projects with themes that really matter to them. "People notice when you do things with love," she added.
"If you find someone to share your passion with, you will always find a way to achieve it, if you surround yourself with the right people," Ortega points out.
Read more:
Listin Diario
Disney
2 August 2022