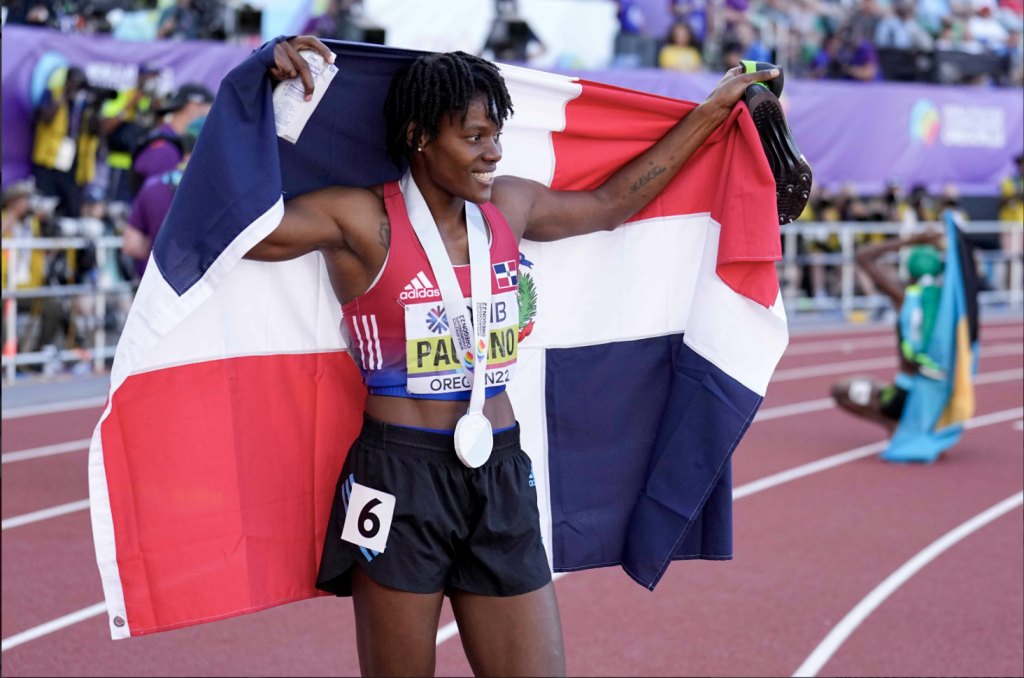 Olympic and world athletics silver medalist Marileidy Paulino complained of lack of support from the Dominican Olympic Committee (COD) and the Ministry of Sports during an event held to recognize her recent wins at the Oregon World Athletics Championship. Paulino won the silver medal in 400m and gold in the 4×400 mixed relay.
"On behalf of my teammates who have given 100 percent and thank God we were able to obtain the gold medal and in my case (particular) thank God for the silver medal," she said in addition to thanking the Creating Olympic Dreams private sector program (Creso). She thanked her coaches. And then, she aired her grievances.
"I take this opportunity to say this: I don't feel the good support of the Olympic Committee or the Ministry of Sports. That's my feeling," said Paulino. Paulino asked for more government support for her and her coach, Yaseen Perez. Her coach is Cuban and has requested Dominican nationality to facilitate his traveling with her around the world.
She said she is an Olympic and world medalist and yet she makes only RD$10,000 in the Ministry of Sports elite sports program (Parni). She said she expects the allowance to be increased after the performance in the Oregon championships.
She says she has to train in Bayaguana due to the bad conditions of the track at the Juan Pablo Duarte Olympic Center in the capital city.
Paulino announced she will run in several Diamond League events during the rest of the year.
Her team mates from the 4 x 400 mixed relay — Fiordaliza Cofil, Lidio Féliz and Alexander Ogando. Also Juander Santos, Robert King and coaches, José Rubio, Yaseen Pérez and Félix Sánchez, the president of the Dominican Track & Field Federation Gerardo Suero Correa, and the president of the Dominican Olympic Committee, Antonio Acosta were present for the recognition.
Read more in Spanish:
Diario Libre
Oregon 2022 4 x 400 mixed relay
2 August 2022