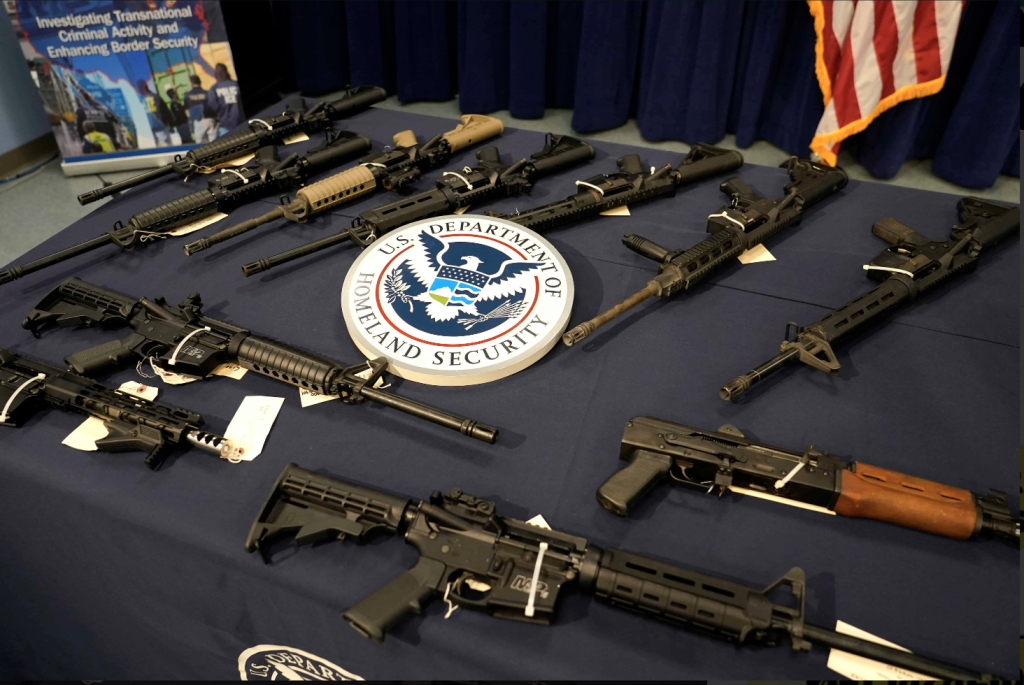 The United States' Homeland Security Investigations is stepping up the pace to halt the smuggling of weapons from Florida to Haiti. In a press conference on Wednesday, 17 August 2022, special agent Anthony Salisbury of Homeland Security Investigations in Miami and other US officials displayed dozens of recently seized military-grade weapons. These included heavy caliber weapons, including military-grade sniper rifles, belt-fed machine guns, semi-automatic pistols, a Barrett .50 sniper rifle, aK47, all originally destined for Haiti.
At present, Port-au-Prince is under siege by heavily armed gangs. The firearms are traced to suppliers from South Florida.
US Federal officials, customs and border officials, coast guard officials were among those present at the press conference where new resources and a new focus on stopping the trafficking of these weapons out of the United States to the Caribbean, mainly to Haiti was announced. Officials said inspections will be stepped up to stop the smuggling of the weapons that are concealed in other shipments and donations to Haiti.
"South Florida is not open for business regarding the illegal trafficking of weapons. We will investigate and prosecute anyone or any level found to be involved," said Anthony Salisbury, the special agent in charge of Homeland Security Investigations Miami. He met with reporters at his principal field office in Sweetwater, just south of Doral.
The Miami Herald reports that Homeland Security is concerned the firearms smuggling from South Florida has spun into "an alarming trend" and the feds need the public's help to plug the pipeline of illegal weapons exports to the violence-stricken Caribbean nation.
Joining Salisbury were top officials with US Customs and Border Protection, the Coast Guard, Commerce Department, Alcohol, Tobacco, Firearms and Explosives, along with prosecutors from the U.S. attorney's office in Miami and officers with the Miami-Dade Police Department. The government officials encouraged the private sector, including shipping businesses, to provide tips about suspicious weapons exports to the Caribbean.
The federal authorities said they are now directing extra resources to fight weapons smuggling — a problem exacerbated by Haiti's demand for firearms as well as Florida's lax marketplace for gun sales.
On Wednesday, 17 August 2022, Haitian Foreign Minister Jean Victor Géneus spoke on the country's raging gang violence at a special meeting of the Organization of American States in Washington, D.C. Acknowledging that Haiti faces "great security challenges," Géneus called on countries to stop sending "illegal arms to Haiti" and to assist Haiti's government in purchasing guns, ammunition and armored vehicles for its national police force.
"Some gangs are better armed than our national police and we need to address these imbalances," he told representatives of member states, which hail from the Western Hemisphere.
Geneus stressed that Haiti does not manufacture weapons. "The problem of insecurity cannot be solved without tackling the illegal international arms trade. In this context, the Haitian government invites the member states to support its efforts to curb this scourge," said Geneus when speaking at the OAS.
He noted that Haiti's customs officers and police have recently made significant seizures, the most "spectacular of which" involved a cargo ship, Miss Lilie, that arrived from the Port in Miami with 120,000 rounds of ammunition in early July in the northwest city of Port-de-Paix. Some 13 days later, another seizure was made, this one in Port-au-Prince while gangs were terrorizing residents in the capital's largest slum, Cite Soleil.
Geneus said in Washington D.C. that "Haiti is at the crossroads for its future". He spoke of how the Henry Ariel government, contrary to the pessimistic outlook, has high hopes the situation can change for better. "We have not lost the battle for our future," he said.
He spoke of the great security challenges and the political dialogue needed to impose order and security to restore the democratic institutions. He said the government is doing all possible to neutralize gang members and called for international help to equip the national police to combat the gangs. He urged international efforts to cut off the supplies of firearms to the gangs.
"These arms are not manufactured in Haiti. The security problem cannot be controlled resolved if we cannot control illegal arms trafficking. Haitian government invites member states to put a stop to the scourge especially in line with the UN resolution 2006 that demands member states put a stop to sending firearms to Haiti," the Minister urged when speaking at the OAS forum.
"We must strengthen the police capacity on the ground to reestablish security nationwide and restore the authority of the state that the criminals undermine," he said in his plea for help to modernize the Haitian police forces. "Some gangs are better armed than our national police," he stated.
"We need to give hope to our young people who think migration is their only future," he stated. "If we do not act, more lives will be lost," he said. He called upon the OAS membership to provide food assistance and invest in Haiti. "The challenges are significant at this crossroad. We need the unity of our people and the understanding and solidarity of all," he concluded.
Read more:
Noticias SIN
Noticias SIN
Reuters
Union Bulletin
Toronto City News
OAS words by Minister of Foreign Affairs of Haiti Geneus
DR1 News
18 August 2022