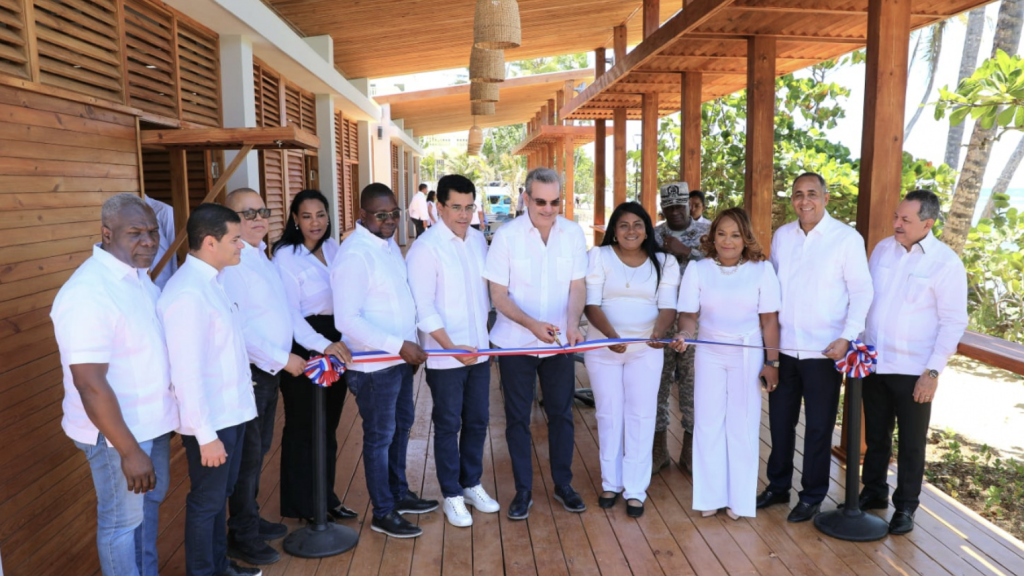 President Luis Abinader and Tourism Minister David Collado were in Guayacanes to visit the completed two vendor plazas on that beach. The government invested RD$143 million in the new installations.
President Abinader said that these are small works but of significant impact because they facilitate the work of small business people, many of which are women. He said tourists also receive better service at the new facilities.
The projects were designed and implemented by the Executing Committee for Infrastructure in Tourist Zones (CEIZTUR), of the Ministry of Tourism.
The wood stall structures enable better organization of the vendors. Landscaping works were carried out as well as road reconstruction at the popular beach coastal area.
The first project inaugurated by Minister Collado, the La Playita de Guayacanes vendor plaza, encompassed the beautification of the access to the project from Juan Dolio Boulevard, wide sidewalks, and a landscaped design along the entire length of the paved road in an area of 1,500 square meters of construction within a space of 3,900 square meters.
The new plaza in La Playita can house ten food sales modules with all their equipment. It also has space for restrooms, security area, lighting and signage, and had an investment of RD$81,283,776.77.
It also has a landscaping design along the entire length of the paved road,
A second Plaza de Vendedores in Playa Guayacanes cost of RD$61,915,194.15 and is set in three modules with 16 stores of 11 mts2 each.
Read more in Spanish:
Presidency
Listin Diario
28 March 2023