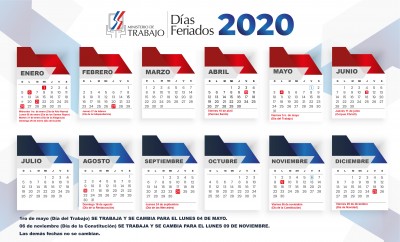 2020 is a peak year for long weekends. Plan vacations with time and take advantage of the extra time to get out and see all the Dominican Republic has to offer.
2020 opens with two long weekends. Wednesday, 1 January is a national holiday. But most people who can already take off the previous Tuesday, 31 December 2019. The next weekend makes for another long weekend because Monday, 6 January celebrates Three Kings Day.
January holidays continue with the holiday dedicated to Our Lady of Altagracia falling on a Tuesday. The day is fixed, so expect many who can to take off the previous Monday and turn it into a long weekend. The next national holiday is Duarte Day, on 26 January, but in 2020 it falls on a Sunday.
Thursday, 27 February is Independence Day. That makes the weekend that falls become a long weekend, too. Many will take off Friday, as well.
This year, Good Friday falls on 10 April. Schools are off from Friday, 3 April, so this is the peak domestic vacation time. Life gets back to normal on 6 April. Many businesses close as of Good Friday.
Labor Day this year falls on Friday, 1 May, but the Ministry of Labor says the holiday will be celebrated on Monday, 4 May. This means many will take off as of Friday to enjoy the extended long weekend.
The next national holiday is the Corpus Christi religious holiday that this year will take place on Thursday, 11 June. It is a fixed day and it also creates a long weekend for those who can take off the following Friday.
Restoration Day this year falls on 16 August. The day marks the inauguration of the government elected in the 17 May 2020 general election. It is a holiday, but this year one that will be characterized by all the protocol of the swearing-in of the next President of the Republic.
The Day of Our Lady of Mercedes falls on a Thursday this year, 24 September. The day makes for another long weekend for those who can take off the following Friday.
Constitution Day is the next holiday. It falls on Friday, 6 November. But the Ministry of Labor orders that this year it be celebrated on Monday, 9 November. So, add that to the long list of long weekends for 2020.
Christmas Day in 2020 falls on Friday, 25 December. The peak day for family gatherings in the year is Christmas Eve.
Overall, 2020 may have a record of long weekends.
17 December 2019