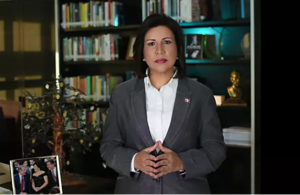 Vice President Margarita Cedeño calls for strengthening family responsibility so that fewer children are in vulnerable conditions on the streets. She spoke during the traditional Christmas meeting with more than 500 street children that are covered by government child protection programs.
She celebrated the achievements of the Progressing with Solidarity (Proseli) program. The Vice President said that the government, with the support of civil society, is working to create a better country for children, to forge a much fairer and more inclusive society, where children find the necessary opportunities to develop and train themselves.
"The state offers opportunities, but it is the family's responsibility to keep the children off the streets," she said.
The Vice President's office oversees the Proseli program in partnership with churches and non-governmental organizations. It reaches out to more than 850,000 families nationwide. The program provides women and youths with skills and contributes to the prevention of child labor.
At the Christmas luncheon activity held at the Dominican Republic Children's and Youth Library (BIJRD), Cedeño personally served food to shoe shiners, window cleaners and low-income adolescents. There were artistic presentations and a show by children's entertainers, with clowns, confetti and sweets.
The Vice President took the opportunity to wish all Dominicans peace and prosperity this Christmas. "To the Dominican people, may you have a Merry Christmas, may you have a prosperous New Year, may the coming year 2020 be a year filled with happiness, harmony, peace, progress. And may you continue the well-being of the Dominican Republic," she said.
A video showing the Vice President dancing with Administrative Minister of the Presidency Jose Ramon Peralta went viral over the weekend. Cedeño had backed the aspirations of her husband, Leonel Fernández for President. But, when he did not win the Dominican Liberation Party (PLD) presidential candidacy and split from the party, she announced she would continue in the ruling PLD. Cedeño has on several occasions aspired to be the PLD presidential candidate.
Read more in Spanish:
El Caribe
Listin Diario
26 December 2019