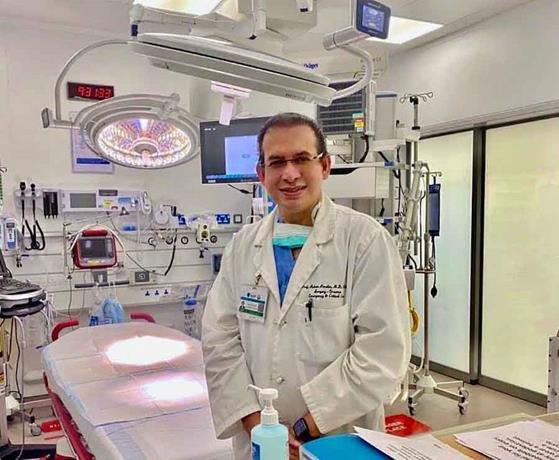 In an interview with Listin Diario, brother and sister physicians, Ruben and Ligia Peralta strongly recommend that the medical authorities lockdown the provinces where there are few or no cases. The country is in the mitigation phase of the epidemic, but more than half of the country's provinces do not yet have widespread community transmission of the disease. Of the 32 provinces and the National District, there seven provinces with four or less cases detected. These are Pedernales, El Seibo, San José de Ocoa, Dajabón, Independencia, Baoruco and Elías Piña, where the first case has not been declared.
The Peralta's are from Salcedo, where as of 22 April there were 141 cases and 11 deaths.
Ruben Peralta is an American Board of Surgery and American Board of Surgical Critical Care certified surgeon and the first Latino exalted to the US Academy of Master Surgeon Educators (2018). He is now playing a stellar role fighting the disease in Doha, Qatar. In Doha he is associate director of the ICU Trauma at Hamad General Hospital.
His sister, Ligia Peralta is associate professor of Pediatrics and Epidemiology, Chief Division of Adolescent and Young Adult Medecine, and director of the Adolescent HIV Program of the Department of Pediatrics, University of Maryland School of Medicine. She is the first Latina elevated to the Women's Hall of Fame in Maryland.
Despite their occupations, the physicians, who are from Salcedo in Hermanas Mirabal province, are closely following what is happening in the Dominican Republic.
Interviewed by Listín Diario through the Zoom digital platform, the researchers also recommend massive testing, since containment measures are made based on those results. They urge an increase in active massive contact tracing for isolation and stressed the importance of healthcare workers having quality protective gear.
In the interview, they recommend the government designate Covid-19 centers in each province and physicians search for and follow up visits to patients kept in isolation.
The physicians urged that no one become less guarded or lower controls in place. They remark that given the large number of informal workers and micro-business, all security measures must be provided so these can continue to carry out their work without putting themselves in danger and spreading the disease.
They say that reaching a plateau in cases is fundamental because if the quarantine goes for several months, people will suffer hunger. They say healthcare and economic collapses would be dire side effects to the epidemic.
They advise that airports continued closed and that Dominicans who are arriving on special flights from abroad comply with a strict quarantine in isolation.
Both understand that the role of the population in abiding with the new rules is fundamental to stop the pandemic.
Read more in Spanish:
Listin Diario
24 April 2020