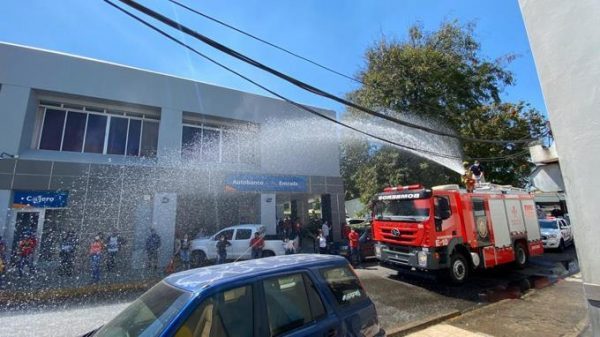 First there was a warning. When people queuing up too closely to enter banks and supermarkets in Santiago did not heed to the order to keep a distance of two meters, on Thursday, 23 April 2020, they were drenched with hosed water.
The measure was ordered by the Santiago Mayor's Office and is being carried out in the main places where there are people agglomerations, such as in the queues for commercial banks, shops, supermarkets, markets and other public spaces.
In the Gurabito sector a group of people were caught with a jet of water while they were queuing up at a bank. Also, in the sector Cambodia, people standing in a line to enter a bank were drenched.
There have been mixed reactions. While many are outraged because they had been in line for long hours, others applauded the initiative that seeks to press the importance and seriousness of Covid-19, and the number of people who had lost their lives.
In other actions, the Mayor's Office reports that together with the business and industrial sectors of Santiago and the Ministry of Public Works, a sanitation and disinfection program in places where there is often a high concentration of people is carried out, to prevent the spread and infection of Covid-19.
The cleaning operation is lead by the Public Works Minister Ramón Antonio Pepín, Santiago Mayor Abel Martínez and the provincial governor Ana María Domínguez.
Read more in Spanish:
Listin Diario
24 April 2020