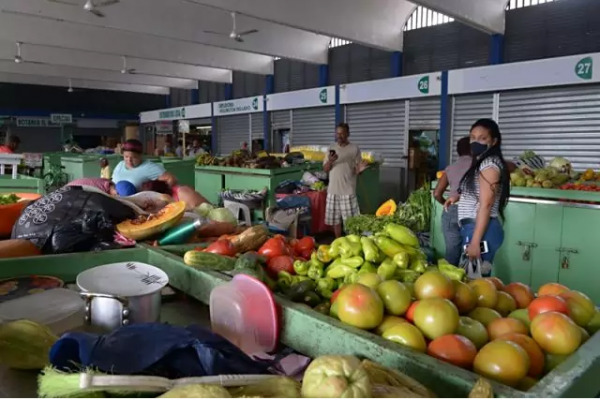 The Medina administration announces it is sourcing from local farmers for government relief efforts. But the National Campesino Movement (Farmer's Movement) that groups small and medium-sized farms is calling on the government to purchase their harvests. The movement says they have lost markets for their produce. Most of the crops harvested by these farmers are staples, such as tubers (ñame, yautia), vegetables (leafy lettuce, carrots, other salads), as well as rabbits, poultry, pork, and dairy. According to the spokesperson, many crops are being lost because there are no stable prices or markets at this time.
Because of the crisis, farmers are being asked to pay for their own supplies in cash, and this makes things even more difficult. The movement asked the Ministry of Agriculture to increase the number of farmers in the program that plows the farmer's fields free-of-charge. They also requested for seeds, seedlings and other supplies.
At the top end of the agricultural sector, Agriculture Minister Osmar Benitez is meeting with farm sector leaders both in person and via teleconference. On the occasion of Farmer's Day last week, he stressed farms are included in the non-essential activities that have continued to operate during the lockdown.
He said that the sector is open and producing to guarantee a steady food supply for the population. He noted that he and his team have tried to ease the difficulties faced by those farmers and producers that lost contracts to supply tourist industries (hotels, resorts and restaurants). He said the government has purchased 5.8 million pounds of poultry for the Social Program; an additional 700,000 pounds for the Economic Kitchens (Comedores Economicos). He mentioned a recent agreement to buy an extra 1.5 million pounds with the commitment that at least 25% of this purchase must be from small producers. Benítez also mentioned that the government is acquiring some $ 2.2 million eggs each week to replace imported sardines for the Student Welfare Institute that distributes food to public school children. This is in addition to purchase orders of 10 million eggs a week. He also listed the purchases from the dairy sector, with millions of liters of milk being used to produce thousands of pounds of cheese.
Benítez detailed that 50,000 pounds a day are being purchased from farmers in San Jose de Ocoa, Constanza and Rancho Arriba. At least 10 truckloads a day of lettuce, others of cabbage, beets and other vegetables are arriving daily.
The government has also extended easier credit for greenhouse farmers. Continuing the litany of programs, the minister said that government actions are also benefiting beef producers, and, of course, the banana and plantain farmers. Finally, he noted that the bean harvest up in San Juan de la Maguana had been brought in and paid for.
Read more in Spanish:
Diario Libre
18 May 2020