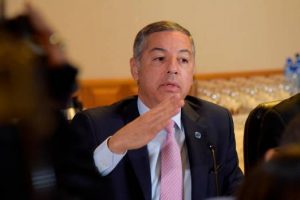 Hacienda Minister Donald Guerrero Ortiz reported on Tuesday, 19 May 2020 that the government will have spent RD$57.5 billion by June 2020 to provide relief to those affected by the Covid-19. The government has practically doubled its fiscal deficit. Reports are that financial assistance in the form of national and international borrowing has surpassed RD$100 billion.
Nevertheless, economists say that the fiscal deficit is not the priority of the country. The priority is to recover the economy, and for that lots of revenues are needed, said economist Pavel Isa Contreras on the La Cuestión radio talk show on 19 May 2020. Isa Contreras said taking on debt is correct in these times of the Covid-19 epidemic.
The relief programs are mainly Fase I and Fase II for direct cash payments through the social security system; Quédate en Casa (Stay Home), as well as the newer Pa'ti program and the assistance that has been given through the Ministry of Public Health, the National Health System (SNS), and the Presidency's social assistance programs.
Guerrero clarified that the RD$40 billion that was placed in the Ministry of Hacienda after an operation of Central Bank credit is not money in circulation. "These funds equivalent to RD$40 billion are deposited in accounts at the Treasury and will be disbursed as needed to cover upcoming expenses and will be executed as approved in the National Budget," he said during a press conference by Zoom.
On the health protocol that will be adopted by companies, he said that it is being discussed between the business sector and the Ministry of Economy and the decisions will be made known.
Read more in Spanish:
N Digital
El Caribe
20 May 2020