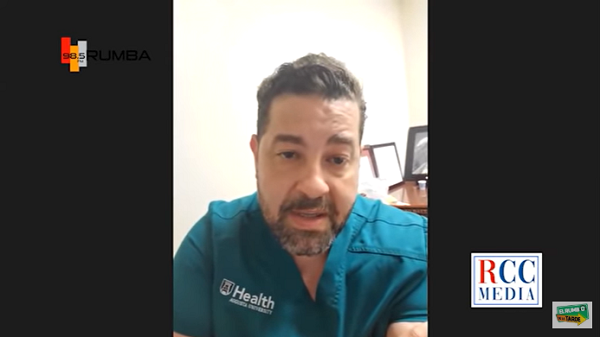 After weeks of the successful use of the drug ivermectin to treat patients in Puerto Plata, the Dominican medical authorities are finally now recognizing ivermectin is working. The drug is readily available and low-cost and can be used in early phases of the disease to stop it short.
This week, though, in an interview with Rumba de la Tarde, Dr. Amado Alejandro Báez, executive director of the Presidential Committee for Covid-19 Response, gave thumbs up to scientific evidence the drug was delivering. Previously he had said it was not part of the official Covid-19 treatment protocol.
"Covid-19 is so new, science changes every day," said Dr. Báez. He said the Dominican medical authorities have been closely monitoring different treatments. "What we have discovered are very basic things. The use of anti-coagulants has made a difference in the management of patients," he explained in the interview.
He said that in the early days, the use of hydroxychloroquine was promising but it is now taking a back seat. "We know of the promising results of ivermectin in DR and abroad," he said, speaking enthusiastically.
"We are monitoring the results of studies of ivermectin in Dominican Republic. We are backing the local researchers to compare and share these results with foreign protocols," he said.
"Since Covid-19 is so new, we have to approach it with humbleness and an open mind," he explained. "Understand what is working abroad, and how this can be Dominicanized," he said. He spoke of the frustration that the new drug Remdesevir has turned out to be, when manufacturers said they could only produce 200,000 doses.
In the interview, Dr. Báez spoke of the outlook for the disease. He said: "What will clear Covid-19 in the Dominican Republic is the combination of natural immunity and development of a vaccine to reach herd immunity. But before that using convalescent serum, we are evaluating technologies such as that used in Israel where they are cloning good antibodies that can be used for treating patients."
Dr. Báez explained that as part of the Presidential Committee for Covid-19 Response, a scientific sub-committee is following up on international studies and how these treatments could be implemented here. He wrapped up the interview: "There are big opportunities. There are the scientific studies we are doing here. We want to integrate the foreign scientific experience with scientific experiences here," he said.
Ivermectin is sold over the counter by Dominican pharmacies; a complete dose costs around RD$600. The drug, nevertheless, should be used with the supervision of an experienced physician. Physicians spearheaded the use of the pharmaceutical at the Centro Médico Bournigal in Puerto Plata. The drug is also used for treating patients at affiliated clinics, Centro Médico Dr. Canela in La Romana and Centro Médico Punta Cana in Punta Cana. In Santo Domingo, early on it has been recommended by gastroenterologist Alberto Santana at the Centro de Medicina Avanzada Dr. Abel González.
See minute 14:10 of this interview on Rumba de la Tarde

21 May 2020