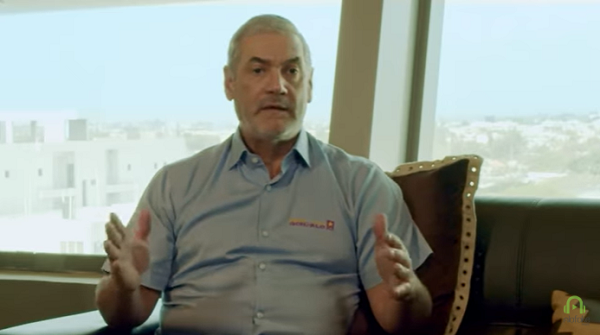 Ruling Dominican Liberation Party (PLD) presidential candidate said in an interview with Internet influencer Santiago Matías for Alofoke Uncensored that he will kickstart the Dominican economy in three months if he is elected. During the interview, he pitched to the young generation that his government will provide them opportunities for these to repeat his life success story.
The interview is a first occasion when Dominicans could hear from the presidential candidate. Just the day before, on 19 May 2020, highly reputed TV host and interviewer Mariasela Alvarez had complained that Dominican Liberation Party (PLD) presidential candidate Gonzalo Castillo had not accepted invitations to appear on the program. Alvarez has been interviewing the vice-presidential candidates. She has interviewed Vice President Margarita Cedeño (PLD) and then Sergia Elena Mejía de Seliman (PRSC). Castillo also is not listed as a participant in the American Chamber of Commerce talks with presidential candidates.
It is a fact that Castillo has not been available for interviews by other leading media. He is best known for major bloopers in public speaking that have made the rounds of social media.
Instead, his campaign strategists chose the YouTube channel of the urban music influencer, Alofoke Uncensored. At the start of the interview, "Aolofoke" thanked the 37-year old presidential candidate for the opportunity to interview him. He highlighted his program has a strong following among young people 18-34 years old. These make up the largest voter segment for the 5 July 2020 elections.
During the interview, Castillo spoke of his humble origins as the son of a barber and small grocery shop owner in southwestern Barahona. He stressed how his hard work had turned him into one of the wealthiest businesspeople in the Dominican Republic. Castillo is basing his presidential campaign on the idea that he will help others to repeat his success story as a self-made man. He says his dream is to be the instrument to enable all young people of humble origins to achieve their own dreams. He spoke highly of how he would implement "a first employment program," with opportunities for the thousands of unemployed youths.
Castillo served as minister of Public Works in the Medina government from 2012 to August 2019 until he resigned to run for the PLD presidential candidacy. He remained in the position for several weeks until a successor was appointed. He says his greatest achievement at the Ministry is the road patrol service.
During the interview, Castillo highlighted that he is a man of actions, not words. "People have to be measured by what they have done, not by what they have said," he said. "I am being elected to do things, not to talk," he said.
In the almost hour-long interview, Castillo spoke of growing up in Barahona and then in Santo Domingo. From the background in the video, it would seem the interview was filmed at his apartment in Santo Domingo. He graduated in electronics from the prestigious Loyola Polytechnical Institute, a vocational high school in San Cristóbal. His first job was repairing television sets, then with Datocentro, a data-processing center. His first investment was in a floral shop. He said they went bankrupt five months later. Then with a fellow worker at Datocentro, he set up a workshop to repair VHS and other electronic devices. He then went to work in Puerto Rico, but said he didn't adapt to living alone.
Castillo shared insights on his family. All throughout the campaign, he has only been seen with his son Gonzalo Alexander. He has never been seen campaigning with his wife or daughters. These have not made public appearances. Castillo explained that his wife, Silvia López, has not wanted to get involved in politics. He said she is dedicated to his daughters, Monica and Sylvia Aimee who live abroad. He said she travels frequently to be with their daughters.
Why do you want to be President?, asked Alofoke. "One does not choose, many times life just takes you along," he says. He said he never thought of being Minister of Public Works, but when President Danilo Medina appointed him, he did what he had to do and his focus has always been on service. "If I am going to be President, it is because the people decide it," he said.
When he was appointed Minister of Public Works in 2012, Castillo had a helicopter tours and air ambulance company. Today, he is one of the wealthiest men in the Dominican Republic.
According to economist José Rijo Presbot, Castillo's company Helidosa tripled its number of airplanes and cashed in on contracts with ministries for over RD$30 million a month. When named Minister of Public Works, Helidosa had a fleet of 11 airplanes. Now the company, Helidosa Aviation Group is the largest airline in the Dominican Republic and the Caribbean with 36 aircraft, of which 13 are airplanes. This conflicts with the Civil Aviation Board statistical report, which indicates the airline transported on average seven passengers a day from 2016 to 2019.
Rijo Presbot said the government's Banco de Reservas has delivered RD$1.68 billion in loans to Castillo's companies.
Muckracking journalist Marino Zapete lost his spot on TV when he presented evidence that Castillo had signed billions in asphalt works without tenders. He is also the government officer to have signed the most contracts with Odebrecht, the Brazilan company accused of paying US$92 million in bribes to government officers to secure public works.
With the backing of President Danilo Medina, Castillo defeated the other presidential candidates for the PLD nomination, including former President Leonel Fernandez. Fernández claimed he had lost due to electronic fraud in the primary. The vote should have closed at 6pm and there were people still voting at 11pm. The doubts about the trustworthiness of the automated voting system later would be confirmed, when an electronic voting machine glitch caused the municipal election to be canceled and the election rescheduled for March. As a result, the JCE announced it was returning to manual voting for the presidential and congressional election that was scheduled for 17 May 2020, and later postponed to 5 July due to the Covid-19 epidemic.
Follow the story:
Alofoke Uncensored
Hoy
Listin Diario
Diario Libre
Hoy
Paso a Paso
Wikipedia
Marino Zapete – El Jarabe
Marino Zapete – El Jarabe
Marino Zapete – El Jarabe

21 May 2020