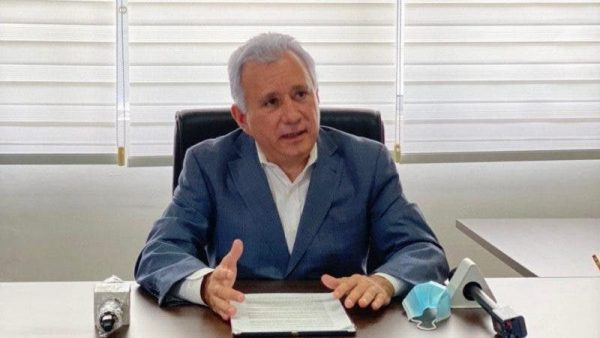 Banco de Reservas had for small and medium-sized enterprises
Opposition party Santo Domingo province senator Antonio Taveras Guzmán accused the government of President Danilo Medina of allowing government departments and the government bank, Banco de Reservas, to irregularly favor former Minister of Public Works Gonzalo Castillo with juicy contracts and multi-million dollar loans. Castillo held the position for seven years, just resigning when President Medina chose him to be the ruling Dominican Liberation Party (PLD) presidential candidate.
In a press conference, Taveras Guzmán presented official documents supporting his accusation. He said the Banco de Reservas favored Helidosa Aviation Group with loans that today amount to more than RD$1.6 billion, equivalent to 10.5% of the entire portfolio the bank destined to medium and small business all throughout the country. He said the loans are equal to 12.4% of the portfolio for all business entities in the tourism sector.
Antonio Taveras Guzmán also pointed out that Helidosa and Aeroambulancia are holding juicy irregular service contracts with almost all the centralized and decentralized institutions of the state, in violation of Article 14 of the Government Procurement Law 340-06 that prohibits public officials to do business with the state.
Each month, he claims, more than RD$30 million in international health insurance premiums are transferred from the public sector to officials of the Dominican Institute of Telecommunications (Indotel), National Aqueducts Institute (Inapa), Tax Agency (DGII), Ministry of Defense, National Cadastre, Ministry of Education, Comptroller General's Office, Ministry of Foreign Relations, Superior Electoral Tribunal, General Passport Office, Central Electoral Board (JCE), Ministry of Interior and Police, National Congress, and the Customs Agency (DGA).
According to the press release, Taveras Guzmán criticized that Castillo's company benefits from insurance premiums for "full" vehicles insured by the state insurance company.
"Many employees are not even aware that they are paying a service to Gonzalo's monopoly business every month. Nor do they know that these contracts are not the result of public tenders. The government of Danilo favors Gonzalo's companies with absolute discretion," says Taveras.
The politician and business leader considers that Gonzalo Castillo's behavior as a civil servant and presidential candidate of the Liberation Party (PLD) deserves an in-depth investigation. He said Castillo's personal worth and business assets have shot up exponentially since named to office in 2012.
He also shared documents indicating that Helidosa Aviation Group had grown from a fleet of 11 low-cost aircraft to a fleet of 36, including 13 airplanes. "All this, while Helidosa served an average of seven passengers per day," he said.
Read more in Spanish:
Hoy
Diario Libre
22 May 2020