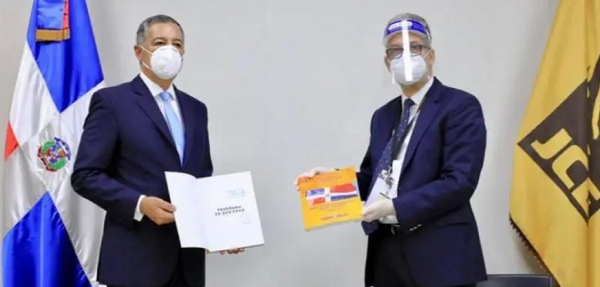 Presidential candidate Gonzalo Castillo, running for President on the ruling Dominican Liberation Party (PLD) submitted his government plan (More Opportunities for Everyone, Let's Get to Work) to the Central Electoral Board (JCE). This is in compliance with the Political Parties and Electoral Regime laws.
Remarking on the delivery, Diana Lora and Patricia Solano on their La Cuestion talk show on 21 May were outraged that Castillo was accompanied by an entourage of high-ranking government officers. They reported that no less than Hacienda Minister Donald Guerrero hand-delivered the Castillo government program to the corresponding JCE officer, secretary general Ramón Hilario Espiñeira. Also present were Economy Minister Juan Ariel Jiménez and Jaime Aristy Escuder, director of Punta Catalina Thermoelectric Central, Zoraime Cuello, director of the National Competitiveness Council, Interior & Police Minister Ramón (Monchy) Fadul and Temístocles Montás, acting president of the party.
The Ministry of Hacienda disburses the funding for the JCE. So far, the JCE has not accepted the request from opposition parties to extend the vote beyond the 7am to 5pm hours in order to give more time to physical distancing. JCE president Julio Castaños Guzmán has also been slow in acting so that the voting abroad can happen. Leading polls indicate that Abinader will make it in a first round. The vote abroad in 2016 went 60% against and 40% in favor of the PLD.
The five presidential candidates running in the 5 July 2020 election met the deadline that was Thursday, 21 May at 6pm. Others are Luis Abinader, who was the first to submit his plan ("The Coming Change, a Country for its People") on Tuesday, 12 May. On Wednesday, 20 May, a commission represented former President Leonel Fernández, who is running for the People's Force (FP), and delivered the government plan is titled "Seven Pillars for a New Wave of Transformation in the Dominican Republic." The Institutional Democratic Party (PDI) deposited the proposal of its presidential candidate, Ismael Reyes Cruz on Thursday, 21 May. A commission on behalf of presidential candidate Guillermo Moreno, for the party Alianza Pais (AlPais) did the same. His program is titled "A New Democratic Order to Straighten Out the Country."
Follow the story in Spanish:
La Cuestion – Minute 10:20
Hoy
Diario Libre
Hoy
22 May 2020