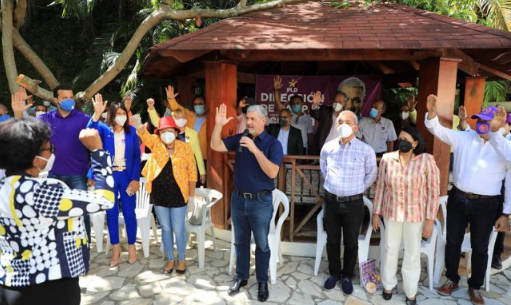 The presidential candidate of the Dominican Liberation Party (PLD), Gonzalo Castillo is rallying upon the experience of the political leaders of the ruling party to defend his victory in the 5 July polls. He said that the opposition is desperate. On the campaign trail in the National District, Castillo said: "I have advocated for a new policy of decency and respect for others, that we leave behind the old policy of lies, falsehoods and aggressions, but these people do not understand, they are desperate and believe it is obligatory that they must win, and it is not so, the PLD will continue to govern for the good of this country," said the presidential candidate.
Gonzalo Castillo warned that the PLD has to win in the first round, and that the party can do so by defending the vote. "This candidacy is blessed by God. You are experienced people and you know how to do the job. This campaign command that we formalize today is full of people with a lot of experience. The triumph is ours; it is up to us to keep it," Castillo said.
Gonzalo Castillo recalled the words of his mentor, President Danilo Medina, at the most recent PLD central committee assembly held at the recent Volleyball Pavilion: "I know Gonzalo Castillo, that man has a big heart and he will not fail you. He will be there to guarantee that I will not fail any of you."
He said that from the first moment that the Covid-19 pandemic began, he has demonstrated with punctual actions that he cares for his people and that is why today he is on an upward curve that does not stop.
Read more in Spanish:
El Caribe
11 June 2020