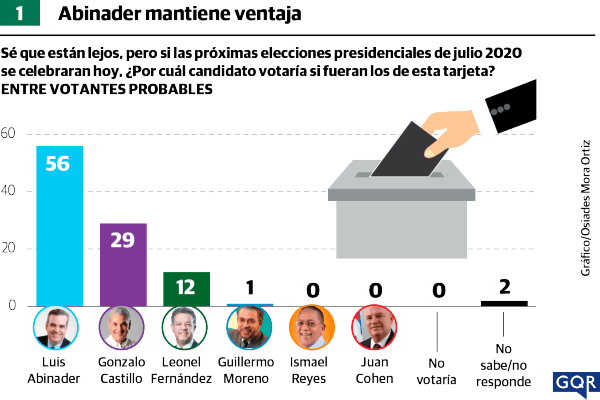 Greenberg says that a desire for change is driving the vote of Dominicans for the 5 July presidential and congressional election. The US polling company says voters have not varied their decision to vote for a change, regardless of the long-running state of emergency. The numbers for the Greenberg poll in February were 52% Abinader, Castillo 24% and Fernández 17%.
The June 2020 poll reveals that the vote for the next Dominican President is likely to be: Luis Abinader of the Modern Revolutionary Party (PRM), 56%, Gonzalo Castillo of the Dominican Liberation Party (PLD) 35.5%, Leonel Fernández of People's Force (FP) 12% and Guillermo Moreno of Country Alliance (AlPais), 1%. There are only 2% undecided, according to the poll. The results mean Luis Abinader of the PRM would be the winner on 5 July 2020, and a runoff election would not be necessary.
Greenberg, nevertheless, contemplated that if there is a second-round vote, Abinader would defeat Castillo 63% to 35%.
"It is understandable that Dominicans are very concerned about the coronavirus's health and economic impact, and these new concerns only underscore the previous dynamics and desire for change," says Jessica Reis, who led the survey. "Above all, they want a leader who represents change by fighting corruption and strengthening the economy. For most of the country, that's Abinader," she said.
68% of those polled want to see that those responsible for government corruption be sent to Justice. Furthermore, the poll reveals that health, jobs and corruption are the country's main concerns.
The poll was carried out from 11 to 16 June 2020. The nationwide poll was carried out by Greenberg Quinlan Rosner (GQR) in collaboration with Bully Pulpit Interactive. Some 1,057 Dominicans were polled, of which 664 said they were probable voters. The margin of error is plus or minus 3-3.8%.
The Greenberg numbers confirm the results of the Gallup-Hoy poll carried out in the same week that showed Abinader winning with 53.7%, Castillo 35.5% and Fernández 8.6%. The Greenberg-Diario Libre poll nor the Gallup-Hoy take into account the vote of Dominicans abroad nor fraudulent actions.
The Mark Penn poll is scheduled for 25 June, and the Centro Economico del Cibao poll for 26 June.
Read more in Spanish:
Diario Libre
24 June 2020