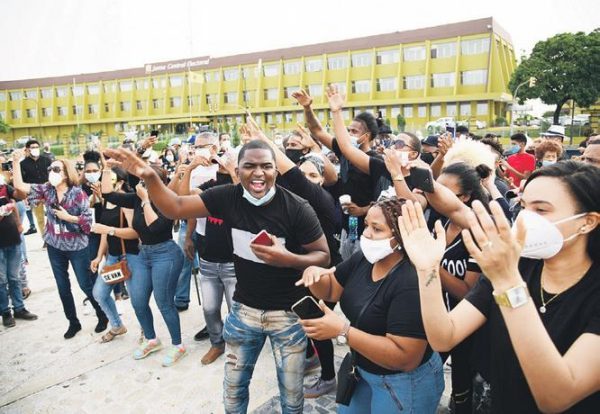 Groups of young people are again protesting at the Plaza de la Bandera, the large plaza in front of the Central Electoral Board (JCE), the Constitutional Court and the Ministry of Defense, as reported in Listin Diario.
Dozens of civic movements demanded on Monday, 22 June 2020 guarantees and conditions so that this coming 5 July congressional and presidential elections be held in an organized manner in the Dominican Republic. The Plaza de la Bandera is the famous site where millennials congregated to protest the cancelation of the 16 February 2020 municipal elections after the brand new and very costly electronic voting machine system collapsed. The municipal elections were postponed until 15 March at a high cost of over RD$1.5 billion. An investigative committee attributed the system collapse to mismanagement and lack of controls.
Pedro Pablo Yermenos Forastieri, who served as a spokesman for the social groups, read a manifesto denouncing that the leadership of the Dominican Liberation Party (PLD) at the JCE is creating panic in Dominican society so that people are scared of Covid-19 and do not go to vote.
Last Sunday, Dr. Miriam German, the highly respected former Supreme of Court of Justice penal chamber judge, read a letter in front of the JCE demanding a transparent election.
Read more in Spanish:
Listin Diario