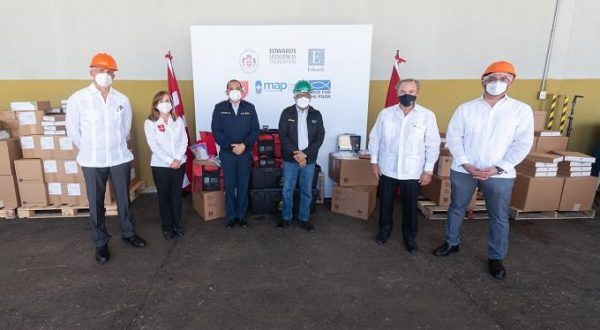 The Order of Malta in the Dominican Republic has delivered 34 state-of-the-art medical devices to six public hospitals in the country. The HemosPhere monitors with Swan-Ganz pulmonary artery catheters and FloTrac sensors will assist in the recovery of critically ill patients suffering from Covid-19.
The hospitals that have benefited are the Ramón de Lara, San Isidro; General Marcelino Vélez Santana, Herrera; Robert Reid Cabral; Rodolfo de la Cruz Lora, Pedro Brand; the José María Cabral y Báez hospital in Santiago de Los Caballeros; and the Ricardo Limardo hospital in Puerto Plata.
Doctors and nurses around the world use these monitoring systems to treat critical care patients, including those in intensive care units being treated for Covid-19 virus who are at high risk of developing severe conditions such as sepsis, lung and critical respiratory problems.
Some of these products are manufactured in the Dominican Republic by Edwards Lifesciences, a multinational company that develops heart valves and equipment for monitoring critically ill patients. The devices enable physicians to better control the patient's physiological status and analyze trends with improved clarity.
The donation also includes 600 Edwards LifeSciences Cardio Packs for patient care, containing medical and hygiene supplies.
Edwards Lifesciences, the free zone company in the medical devices sector, donated the equipment through Food For The Poor (FFP), an international aid organization, which in turn receives it from MAP International, a non-profit organization that provides essential medicines to humanitarian clinics and hospitals in developing countries.
Kellee Brown, Hospitaller of the Sovereign Order of Malta, gave the words of introduction. Present at the donation ceremony were Frank R. Rainieri M., ambassador of the Sovereign Order of Malta to the Dominican Republic; Public Health Minister Rafael Sánchez Cárdenas; Alejandro Peña Prieto, vice-president of the Dominican Association of the Order of Malta; Carlos José Grullon, commercial manager of Almacaribe; Omar Jiménez, general manager Edwards Lifesciences; among others.