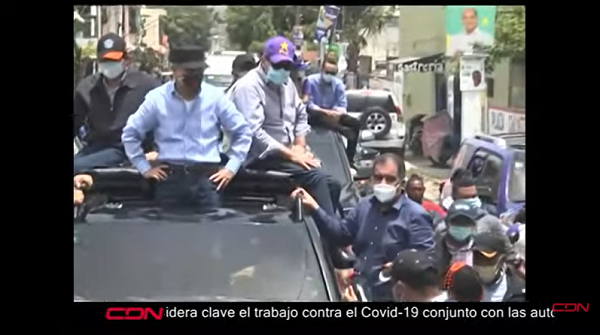 With most polls showing the ruling Dominican Liberation Party (PLD) presidential candidate Gonzalo Castillo trailing well behind the opposition, President Danilo Medina was in Azua and San Jose de Ocoa to motivate voters. The recent Greenberg poll showed that Medina had a high popularity rating of 64%. Nevertheless, with elections set for 5 July, many observe this is a case of "too little, too late."
Others observe that Medina has taken the campaign on his shoulders in the absence of major party leaders. His active participation in the campaign, is in violation with electoral law.
From the start, the President spoke out saying the opposition will not accept when the results show Castillo winning the 5 July elections. While some observers feel that Medina is trying to save the Castillo campaign, others are putting forth the idea that what he is doing is consolidating a would-be victory of the ruling PLD by whatever means. Others say, the last-minute effort is to maintain the majority of the ruling party in Congress.
Late last week, as Medina chaired a meeting of the PLD's Central and Political Committees, when he harangued the audience not to believe the recent polls. He said the polls are part of a plan by the Modern Revolutionary Party (PRM) to refuse to accept the outcome of the election. He said that there is no way that Gonzalo Castillo can be 27 points behind Abinader, as noted in some surveys recently, because everything that has happened after Covid-19 was announced has favored the government candidate. Yet, in the same event, the President urged the party members to "at least" keep the party majority in the Senate.
Giving his message of hope to the assembly of political party leaders, he called for party comrades to have the courage and know the voting procedures to defend the vote in the polling places.
Read more in Spanish:
29 June 2020