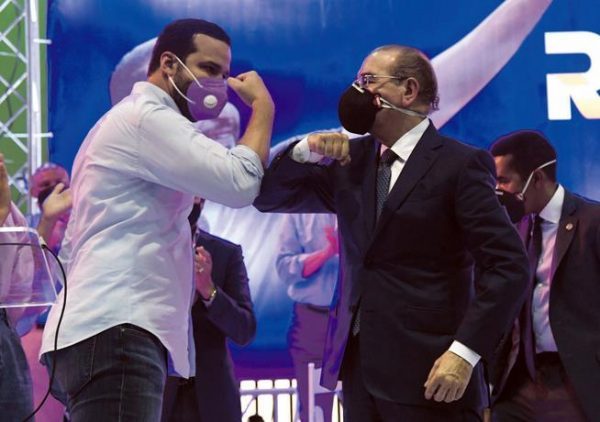 President Danilo Medina continues on the campaign trail, this time backing with his presence the candidacy of Rafael Paz for senator in the National District. President Medina said he met Paz when the later was the executive director of the National Business Council and served as liaison with the government. Paz was later promoted to be the director of the National Competitiveness Council. He would keep a position until about a month ago when he finally resigned to dedicate himself to his campaign for senator.
As reported in Listin Diario, Medina urged PLD supporters to vote for the organization's candidates at all levels (presidential, senatorial and deputies).
"Gonzalo is going to be the next President of the Republic. I don't know if it will be in the first or second round. I am working so that he wins in the first round. I am sure that if the youth and the women vote as we think, Gonzalo will win in the mid-round," said the President.
He said that the President who is elected and does not control the Chamber of Deputies and the Senate will have a rough ride. "I have been able to govern with peace of mind because I have had a congress that has accompanied me in eight years. I recently lost that majority in October. And from there to here I have not had a good time. If you want a good government you have to vote for PLD senators and deputies. You have to vote for Rafael Paz. The National District is the most important district in the country," he said.
Paz is competing against Faride Raful, a National District deputy, who has been a vocal opponent to the government party in Congress. Raful is leading in the polls but has expressed concern the ruling party could keep the majority in the Senate.
In a recent address to members of the PLD's political and central committees, President Danilo Medina urged the party to ensure that "at least we keep the Senate."
On the third day of open campaigning of the President for PLD candidates, the president of the Central Electoral Board (JCE) urged the President to exercise "prudence." He pointed out that Electoral Law 15-19 states that government officials should not take advantage of their positions to campaign. He said President Medina should attend to his primary role. He left it up to President Medina to decide whether or not to take a leave of absence.
"Public officials who administer resources cannot take advantage of their positions to campaign. So, in a way, it is like stepping on scrambled eggshells in the case of the figure of the President of the Republic who, per se, is the nation's administrator," he said. Speaking on Decision 2020, a program on CDN, Channel 37, Castaños Guzmán added: "So, at the moment he takes the step to campaign, we must also say that he is a political leader too, that he is a person and also evidently has his political preferences."
Read more in Spanish:
Listin Diario
El Caribe
30 June 2020