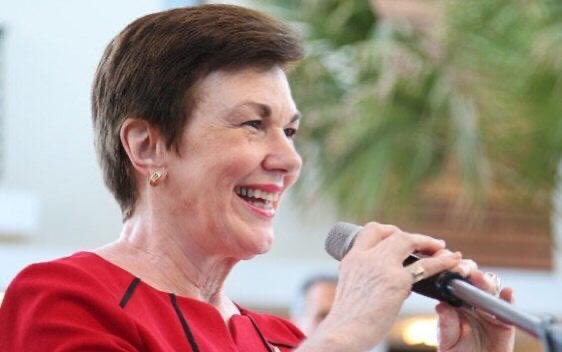 President-elect Luis Abinader tweeted that 73-year old Sonia Guzmán is his choice for the next ambassador to the United States. Guzmán is the daughter of the late President Antonio Guzmán. She is a widow of the late José María Hernández.
From early on, she worked at the Pontifical Catholic University Madre y Maestra (PUCMM) in Santiago. She was director of the library, until she was promoted to administrative vice rector, where she remained for during the 70s until joining the government of her father.
During the presidency of her father (1978-1982), she served as deputy administrative secretary. During the presidency of Hipólito Mejía (2000-2004), she was the Secretary (Minister) of Industry & Commerce, taking a leadership position in the negotiations of the Free Trade Agreement (DR-CAFTA).
The Abinader cabinet is shaping up as follows, in order of announcement of the appointments:
Ethics and corruption Office director: Milagros Ortiz Bosch
Minister of the Presidency: Lisandro Macarrulla
Foreign Relations Minister: Roberto Álvarez Gil
Education Minister: Roberto Furcal
Spokesperson for the Presidency: Milagros Germán
Governor of the Central Bank: Hector Valdez Albizu
Economy & Planning Minister: Miguel Ceara Hatton
Hacienda Minister: Jochi Vicente
Superintendent of Banks: Alejandro Fernández Whipple
National Budget director: Jose Rijo Presbot
CEI-RD director: Biviana Riveiro
Economic advisor to the President: Pedro Silverio
Legal Advisor to the President: Antoliano Peralta
Energy & Mines Minister: Antonio Almonte Reynoso
Administrative Minister of the Presidency: José Ignacio Paliza
Defense Minister: Major General Carlos Luciano Díaz Morfa
Head of the Health Cabinet: Vice President-elect Raquel Peña
Public Health Minister: Plutarco Arias
Deputy Minister for Collective Health: Ivelisse Acosta
Executive director Public Procurement Agency: Carlos Pimentel
Tourism Minister: David Collado
Tourism Advisor to the President: Joel Santos
Public Works Minister Deligne Ascención
Youth Minister: Kimberly Taveras Duarte
Interior & Police Minister: Jesús (Chu) Vásquez
Public Administration Minister: Dario Castillo Lugo
Labor Minister: Luis Miguel de Camps
National Health Service: Dr. Mario Lama
Ambassador to the USA: Sonia Guzmán
Follow the story in Spanish:
Sonia Guzman life story
El Dia
Luis Abinader
27 July 2020