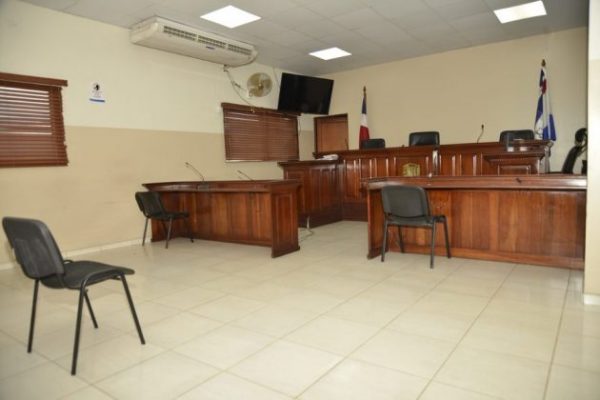 A selection of courts in the Dominican Republic has been fitted with plexiglass shields and other physical distancing materials to ensure judges, clerks, lawyers, and other visitors during court hearing hours.
Face mask requirements, the plexiglass dividers, virtual meetings and 2-meter floor markings are the "new normal" for courts as the phased reopening starts 29 July 2020 amid a spike in the coronavirus pandemic.
Courts have been closed since the middle of March 2020 to in-person hearings. Many virtual sessions have been held. Many lawyers in the Dominican Republic have protested this keeps justice away from many. They also protest they are hardpressed now to make a living.
The Judicial Branch says 116 courtrooms are being set up for in-person sessions in 42 administrative headquarters nationwide. Virtual meetings will continue to be the priority even for courthouses that offer in-person sessions. The courthouses have been prepared for in-person or virtual sessions.
Of the 116 courtrooms that are going back into operation, 43 have been equipped for the in-person hearings. 73 are set up for both in-person and virtual sessions.
The Judicial Branch explains that the parties and their lawyers need to pre-book through https://www.serviciojudicial.gob.do or by calling *3191 or 1-809-200-3191.
Those that do not book online will need to queue up to request an appointment at the courthouse administrative offices.
Some 36 booths are available for parties who lack the means or skills to participate in virtual hearings.
Court calls are being staggered, and the number of people entering the buildings will be restricted, according to the new protocols.
Many trials will remain suspended. When appropriate, defendants are asked to stay home and appear in court through their attorneys.
Read more in Spanish:
Servicio Judicial
Poder Judicial

28 July 2020