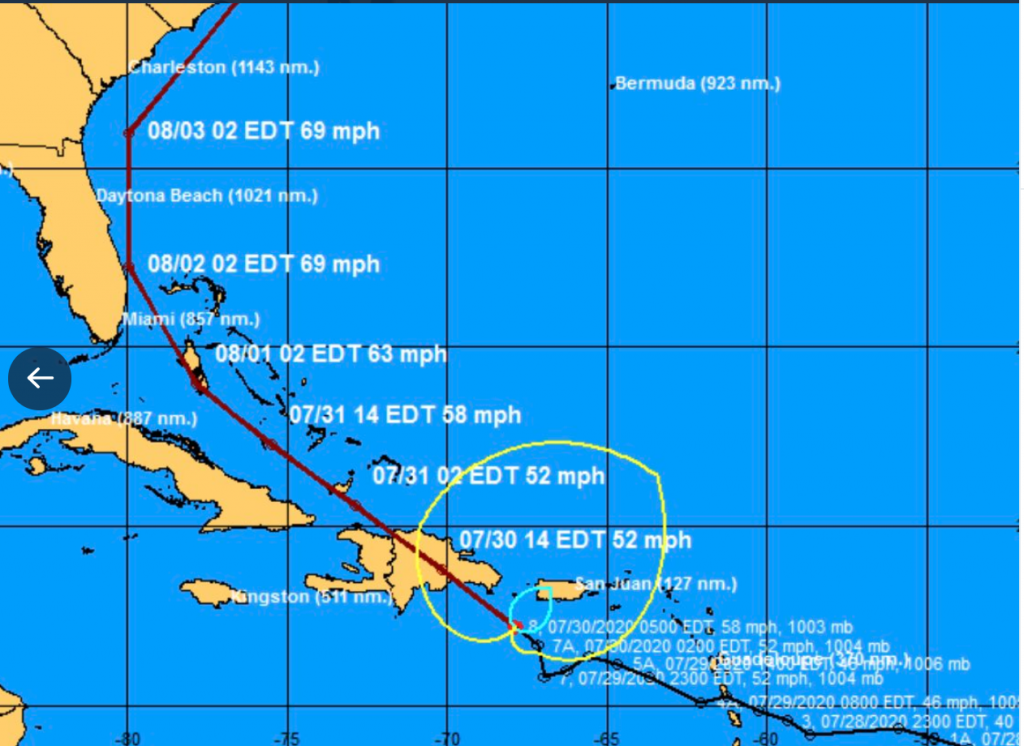 With its name since 11pm on Wednesday, Tropical Storm Isaias continues to baffle weather forecasters. It took a more westerly track yesterday and is on a likely track to go inland nearer to Pedernales, in the southwest of the Dominican Republic. The storm is now moving at a slower 31kph.
The forecast for the Dominican Republic is heavy rains and wind gusts for Thursday and Friday. The storm is enormous at around 555km (370 miles). Warnings are in effect for both the southern and northern coastlines.
Puerto Rico reports heavy rains and wind gusts as the storm passes.
In the evening press conference, the director of the Center for Emergency Operations (COE), General Juan Manuel Mendez had forecast eight inches of rain for several areas across all of the Dominican Republic starting Thursday. He predicted flooding because topsoil is hard after weeks of drought.
General Juan Mendez said a red alert has been issued for the provinces of La Altagracia, La Romana, San Pedro de Macoris, San Cristóbal and for Greater Santo Domingo. He said the whole nation, nevertheless, should prepare to receive heavy rains and winds.
The US National Hurricane Center reports these locations for the storm over the past hours:
Wednesday locations:
2pm: 16.2N 64.7W
4pm: 16.3N 65.2W
5pm: 16.4N 65.6W
8pm: 16.0N 66.3W
Thursday locations:
5am 17.2N 67.9W
Read more:
DR1 Weather Forum — 2020 Hurricane Season thread
NHC
Onamet
30 July 2020