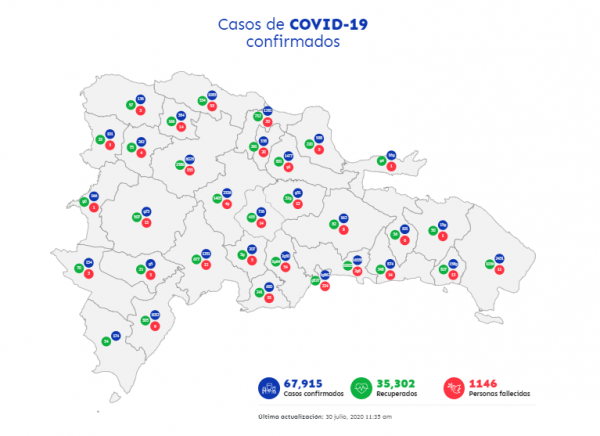 According to Coronavirus Bulletin #133 of the Ministry of Public Health's Department of Epidemiology, the Dominican Republic has 67,915 confirmed cases, including 1,733 new cases, a record number. Bulletin #133 indicates that 42% of the reported cases are persons in the 20-39 years range.
The number of confirmed cases depends on the availability of PCR tests that continues to be very scarce, especially in the provinces. In the Dominican Republic, even the well off have to wait to get tested. For a shot at a free PCR test, people queue for hours at the Laboratorio Nacional Dr. Defilló in Santo Domingo.
The average testing over the past 14 days is 3,835 PCR tests. The numbers of diagnostic tests carried out over the past 14 days [the difference between the PCR tests reported since the past bulletin] are: 4,932 (Bulletin #133), 3,471 (Bulletin #132), 2,310 (Bulletin #131), 3,867 (Bulletin #130), 5,487 (Bulletin #129), 4,635 (Bulletin #128), 3,961 (Bulletin #127), 4,107 (Bulletin #126), 3,416 (Bulletin #125), 3,7602,345 (Bulletin #124), 3,396 (Bulletin #123), 3,833 (Bulletin #122), 3,814 (Bulletin #121), 3,769 (Bulletin #120), 3,173 (Bulletin #119), 4,095 (Bulletin #118), 2,101 (Bulletin #117), 2,969 (Bulletin #116).
The statistical reports do not include rapid response blood antibody tests or patients diagnosed with tomography or other means. The Dominican Republic has a population of more than 10 million people.
The tally of deaths is now 1,146, including 23 new registered deaths. The daily average number of deaths for the past 14 days has been gradually rising and is now at 14.64. The rising number of deaths reflects that more people are late in receiving hospital care. Most people avoid going to the congested hospitals until their cases are advanced.
As of Bulletin #133, 4,991 patients are hospitalized, a new record. Of these, 284 patients are in intensive care units, a new record. Covid-19 hospitalization capacity is now stretched to capacity. In the 30 July press briefing, Public Health Minister Rafael Sánchez Cárdenas announced 149 beds are being added to private and public hospitals to meet the demand. The National Health Service (SNS) reported 36 new beds are available to treat Covid-19 patients in the Intensive Care (ICU) at the yet to be inaugurated Luis E. Aybar Medical City.
The fatality rate, the number of reported deaths per number of confirmed cases is at 1.69% per million inhabitants. The positivity rate over the past four weeks has continued to increase and is now at a high 33.86% that means the disease is spreading among people who do not know they have it. World experts advocate opening the economy when the positivity rate is at 5%.
The 14-day bulletin results are:
Bulletin #133: 67,915 confirmed cases, 1,733 new cases, 1,146 deaths, 23 new reported deaths
Bulletin #132: 66,182 confirmed cases, 1,492 new cases, 1,123 deaths, 22 new reported deaths
Bulletin #131: 64,690 confirmed cases, 534 new cases, 1,101 deaths, 18 new reported deaths
Bulletin #130: 64,156 confirmed cases, 1,248 new cases, 1,083 deaths, 20 new reported deaths
Bulletin #129: 62,908 confirmed cases, 2,012 new cases, 1063 deaths, 8 new reported deaths
Bulletin #128: 60,896 confirmed cases, 1,819 new cases, 1,055 deaths, 19 new reported deaths
Bulletin #127: 59,077 confirmed cases, 1,462 new cases, 1,036 deaths, 30 new reported deaths
Bulletin #126: 57,615 confirmed cases, 1,572 new cases, 1006 deaths, 1 new reported death
Bulletin #125: 56,043 confirmed cases, 1,246 new cases, 1,005 deaths, 6 new reported deaths
Bulletin #124: 54,797 confirmed cases, 841 new cases, 999 deaths, 6 new reported deaths
Bulletin #123: 53,956 confirmed cases, 1,101 new cases, 993 deaths, 12 new reported deaths
Bulletin #122: 52,855 confirmed cases, 1,336 new cases, 981 deaths, 10 new reported deaths
Bulletin #121: 51,519 confirmed cases, 1,406 new cases, 971 deaths, 29 new reported deaths
Bulletin #120: 50,113 confirmed cases, 1,370 new cases, 942 deaths, 1 new reported death
Bulletin #119: 48,743 confirmed cases, 1,072 new cases, 941 deaths, 12 new reported deaths
As of Wednesday, 29 July 2020 at 4pm, the deadline for Bulletin #133, the most confirmed cases were located in urban areas where most of the tests are carried out. The National District (19,862) and the Santo Domingo province (16,338) have 53.3% of cases or 36,200 of 67,915 confirmed cases nationwide.
Other provinces with large number of confirmed cases are: Santiago (6,028), San Cristobal (2,930), La Altagracia (2,431), La Vega (2,326), La Romana (1,589), Duarte (1,477), Espaillat (1,281), Azua (1,251), Puerto Plata (1,083), Barahona (1,032), San Juan de la Maguana (975), Sánchez Ramírez (951), San Pedro de Macoris (874), Monseñor Nouel (726), Peravia (650) and Maria Trinidad Sanchez (588) are the other provinces that have 500 or more accumulated cases. The National District and these 17 of the 32 provinces make up 91.86% of the confirmed cases nationwide.
The most new cases or recently allocated cases reported for the 29 July update deadline are: the National District (446), Santo Domingo province (278), Santiago (199), Puerto Plata (85), Santiago Rodríguez (72), La Vega (46), Duarte (41), Peravia (39), Azua (24), San Cristóbal (20), Espaillat (16), San Jose de Ocoa (15), San Juan de la Maguana (13) and La Altagracia (12). The Ministry of Public Health reports nine or less confirmed cases in 15 other provinces. This does not mean there are not more than nine cases in these provinces. It just is the result of the PCR tests available to inhabitants in that province.
Haiti reports 7,378 confirmed cases and 159 deaths, as of 27 July 2020.
In the Americas, the Dominican Republic is now ranked 11th in confirmed cases after the United States, Brazil, Peru, Canada, Mexico, Chile, Ecuador, Colombia, Argentina and Bolivia.
See the Ministry of Public Health epidemiological
bulletins

Read more statistical analysis at:
DR1 Forums
John Hopkins Coronavirus Resource Center
University of Washington Health Data
University of Oxford Covid Tracker
Worldometer
SICA
30 July 2020