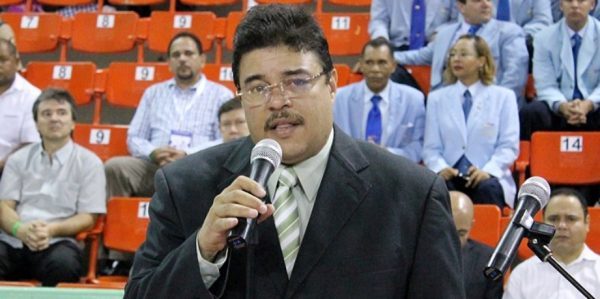 President-elect Luis Abinader's choice for Minister of Sports told Diario Libre in his first interview with Diario Libre that he envisions building a new Taekwondo Pavilion during his term at the department. The new government begins 16 August 2020.
Himself a medal-winning Taekwondo athlete, Francisco Camacho says he plans to continue being the president of the Taekwondo Federation. He told Diario Libre the final decision is up to the Dominican Olympic Committee (COD). When Diario Libre asked, COD president Luisín Mejía said this is possible, and that there are cases abroad where this has been permitted. The COD's highest-ranking officer says there is no legal impediment to Camacho continuing at the helm of the Taekwondo Federation. "There is no impediment for him to be sports minister and president of the Dominican Taekwondo Federation. One is not incompatible with the other," Luisín Mejía, president of the COD told Diario Libre. Federation jobs are very well paid in the Dominican Republic.
During the interview, Camacho told Diario Libre he hopes to create more local heroes, referring to the Dominican athletes who do well in international competitions. He adds that "it is the state's responsibility to make them national idols and the responsibility of the federations to make them Olympic idols."
Camacho has presided over the Dominican Taekwondo Federation for years. Under his stewardship, Dominican taekwondo athletes have won two silver Olympic medals – silver by Gabriel Mercedes in Beijing Olympic Games in 2008 and another with Luisito Pie in the Rio de Janeiro Olympic Games in 2016.
Camacho says the Ministry of Sports will work to create the base for more outstanding Dominican athletes. He said there will be an increase in the emphasis on school sports, national school sports games, and the national sports games. He said the National Sports Games that were programmed for this 2020 have had to be postponed. But he envisions these be held every two years. He said that there is much uncertainty now, and even the Olympic Games are not sure to be held in 2021.
Camacho said school sports will be reborn. "School sports will shine," he forecast. "They will shine because Education Minister Roberto Furcal knows about sports. The sports community is going to live a new era," Camacho said. The sports ministry will implement sports models that are used in the United States to develop athletes at the school and university levels, he said.
He advanced that a major program to build sports installations and train trainers will be begun. He remarked more multi-sport facilities will be built.
He insisted he will endeavor so that his sport, Taekwondo, gets its own pavilion.
"Write it down. And I'm not saying it because I will be the Minister of Sports," he said. He explained that the sport of taekwondo has earned the facility because of all the successes of its athletes in international events over the years.
He added that the Ministry of Sports will not necessarily build the installation. "As a minister I will ask my President. I will not use the Ministry to favor Taekwondo. For me all sports are equal, but I will manage this with my President and my friends," he said.
Read more in Spanish:
Diario Libre
Diario Libre
Momento Deportivo
Mundo Taekwondo

6 August 2020