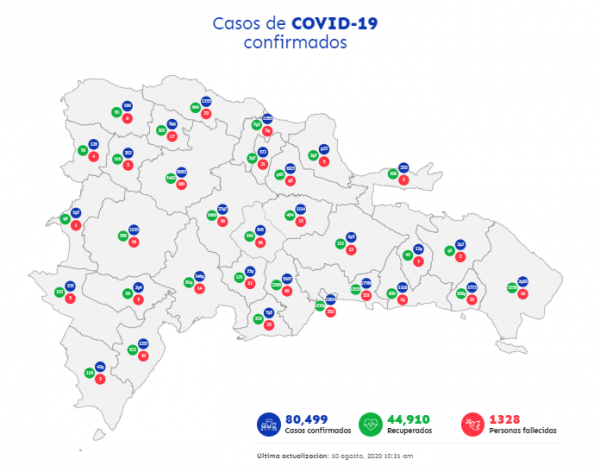 According to Coronavirus Bulletin #144 of the Ministry of Public Health's Department of Epidemiology, the Dominican Republic has 80,499 confirmed cases, including 767 new cases.
The number of confirmed cases depends on the completion of PCR tests. In the Dominican Republic, even the well off have to wait to get tested or get their test results. For a shot at a free PCR test, people queue for hours at the Laboratorio Nacional Dr. Defilló in Santo Domingo and then have to wait for more than 10 days for results.
The average testing over the past 14 days is 3,775 PCR tests. The numbers of diagnostic tests carried out over the past 14 days [the difference between the PCR tests reported since the past bulletin] are: 3,453 (Bulletin #144), 3,772 (Bulletin #143), 4,139 (Bulletin #142), 4,202 (Bulletin #141), 3,491 (Bulletin #140), 4,734 (Bulletin #139), 5,172 (Bulletin #138), 1,685 (Bulletin #137), 2,558 (Bulletin #136), 4,115 (Bulletin #135), 4,815 (Bulletin #134), 4,932 (Bulletin #133), 3,471 (Bulletin #132), 2,310 (Bulletin #131), 3,867 (Bulletin #130), 5,487 (Bulletin #129).
The statistical reports do not include rapid response blood antibody tests or patients diagnosed with tomography or other means. The Dominican Republic has a population of more than 10 million people.
The tally of deaths is now 1,328, including 19 new registered deaths, since the first Covid-19 case was declared in the DR on 1 March 2020. The daily average number of deaths for the past 14 days is at 17.5. The rising number of deaths reflects that more people are late in receiving hospital care. Most people avoid going to the congested hospitals until their cases are advanced. The number of deaths has not been increasing anywhere near the larger numbers of people that are being hospitalized.
As of Bulletin #144, 6,765 patients are hospitalized, a five-day consecutive new record. Of these, 309 patients are in intensive care units. Covid-19 hospitalization capacity was recently increased, but the demand is growing likewise with the recent spikes in infections throughout the country. The number of persons hospitalized, nevertheless, seems to reflect the increase in Covid-19 hospital beds now available.
The fatality rate, the number of reported deaths per number of confirmed cases is at 1.65% per million inhabitants. The positivity rate over the past four weeks has continued to increase and is now at 34.22% that means the disease is spreading among people who do not know they have it. World experts advocate opening the economy when the positivity rate is at 5%.
The 14-day bulletin results are:
Bulletin #144: 80,499 confirmed cases, 767 new cases, 6,775 hospitalized, 1328 deaths, 19 new reported deaths
Bulletin #143: 79,732 confirmed cases, 954 new cases, 6,837 hospitalized, 1,309 deaths, 20 new reported deaths
Bulletin #142: 78,778 confirmed cases, 1,069 new cases, 6,702 hospitalized, 1,289 deaths, 30 new reported deaths
Bulletin #141: 77,709 confirmed cases, 1,173 new cases, 6,612 hospitalized, 1,259 deaths, 13 new reported deaths
Bulletin #140: 76,536 confirmed cases, 876 new cases, 6,551 hospitalized, 1,246 deaths, 24 new reported deaths
Bulletin #139: 75,660 confirmed cases, 1,365 new cases, 6,506 hospitalized, 1,222 deaths, 9 new reported deaths
Bulletin #138: 74,295 confirmed cases, 1,178 new cases, 6,157 hospitalized, 1,213 deaths, 30 new reported deaths
Bulletin #137: 73,117 confirmed cases, 874 new cases, 6,262 hospitalized, 1,183 deaths, 5 new reported deaths
Bulletin #136: 72,243 confirmed cases, 828 new cases, 6,053 hospitalized, 1,178 deaths, 8 new reported deaths
Bulletin #135: 71,415 confirmed cases, 1,766 new cases, 5,871 hospitalized, 1,170 deaths, 10 new reported deaths
Bulletin #134: 69,649 confirmed cases, 1,734 new cases, 5,395 hospitalized, 1,160 deaths, 14 new reported deaths
Bulletin #133: 67,915 confirmed cases, 1,733 new cases, 4,991 hospitalized, 1,146 deaths, 23 new reported deaths
Bulletin #132: 66,182 confirmed cases, 1,492 new cases, 4,600 hospitalized, 1,123 deaths, 22 new reported deaths
Bulletin #131: 64,690 confirmed cases, 534 new cases, 4,192 hospitalized, 1,101 deaths, 18 new reported deaths
As of Sunday, 9 August 2020 at 4pm, the deadline for Bulletin #144, the most confirmed cases were located in urban areas where most of the tests are carried out. The National District (22,824) and the Santo Domingo province (17,786) have 50.44% of cases or 40,610 of 80,499 confirmed cases nationwide. The percentage of cases in Greater Santo Domingo of the total nationwide has been declining for weeks as the disease has spread in the provinces.
Other provinces with large number of confirmed cases are: Santiago (8,083), San Cristobal (3,167), La Altagracia (2,910), La Vega (2,797), Duarte (1,823), La Romana (1,772), Azua (1,469), Espaillat (1,385), Puerto Plata (1,333), Barahona (1,257), Sánchez Ramírez (1,114), San Juan de la Maguana (1,135), San Pedro de Macoris (1,116), Maria Trinidad Sanchez (922), Monseñor Nouel (845), Peravia (793) and are the other provinces that have 500 or more accumulated cases. The National District, province of Santo Domingo and these 16 provinces of 32 make up more than 90% of the confirmed cases nationwide.
Where and how much testing determines the reported new cases. Outbreaks may take days to be reported in the official bulletin. The most new cases or recently allocated cases reported for the 9 August update deadline are: the National District (225), Santiago (147), Santo Domingo province (128), La Altagracia (54), San Juan de la Maguana (27), San Pedro de Macoris (27), San Cristóbal (24), Duarte (19), El Seibo (19), La Vega (12) and Espaillat (11). The Ministry of Public Health reports nine or fewer confirmed cases in 21 other provinces.
Haiti reports 7,634 confirmed cases and 183 deaths, as of 9 August 2020.
In the Americas, the Dominican Republic is now ranked 11th in confirmed cases after the United States, Brazil, Peru, Canada, Mexico, Chile, Ecuador, Colombia, Argentina and Bolivia.
See the Ministry of Public Health epidemiological
bulletins
John Hopkins Coronavirus Resource Center
University of Washington Health Data
University of Oxford Covid Tracker
Worldometer
SICA
10 August 2020