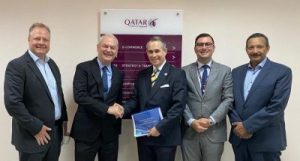 From Qatar, Dominican ambassador Federico Cuello reports on advances in conversations for the start of a direct flight from Qatar. Cuello says that His Highness Sheikh Tamim Bin Hamad Al Than wants Qatar Airlines to serve as the flight of choice to make Asian tourism a reality.
Cuello explained the embassy commissioned a study with financing from the Ministry of Tourism on direct flights from Qatar to the Dominican Republic. The study revealed that the flight would be more attractive than the 11 existing connections at comparable distances.
"Qatar should be the Dominican port of transshipment for Asian tourism and the Dominican Republic should be the logistical center for Qatar in the Americas," is the conclusion.
Thierry Antinori, chief strategy and transformation officer for Qatar Airways, attended the meeting. He was accompanied by the airline's senior vice presidents for corporate planning, Morten Loej and Fathi Atti for aeropolitical and corporate affairs.
Dominican and Qatar authorities have been looking into signing an open skies agreement with Qatar. The plan is for Qatar Airways to fly in Asian tourists with these making their first stop in Doha. Cuello has stressed that the planes that fly to the Dominican Republic with tourists would bring back fresh products for sale in Qatar, just like the ones on British Airways bring to London.
Qatar Airways is a member of OneWorld Alliance. The airline prides itself on keeping its flights throughout the pandemic while rapidly rebuilding its global network to more than 650 weekly flights to over 85 destinations. Qatar Airways says its passengers can enjoy more flexible travel options via the most connected airport in the Middle East, Doha's Hamad International Airport.
During the most recent meeting with Qatar Airways, Ambassador Cuello Camilo was accompanied by Kassem Al Ajineh, general manager of the Madaeen Al Doha group and president of the management committee of the Dominican Chamber of Commerce in Qatar (DomCham-Qatar).
The press release on the meeting adds that the participants agreed to meet later to continue studying key aspects that still need to be assessed.
Cuello has been working with Qatar business people that have shown an interest in investing in the Dominican Republic in projects in tourism, electrical distribution, port infrastructure and logistics. Qatar is regarded as the world's richest country by GDP per capita.
Read more in Spanish:
El Nuevo Diario
Listin Diario
Qatar Airways
Aljazeera on Qatar
Magzter
14 September 2020