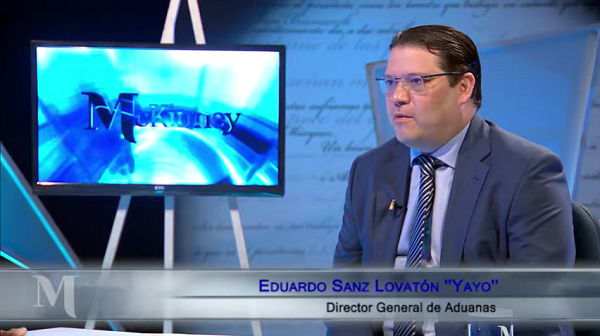 The new Customs Agency director Eduardo Sanz has been busy cutting wasteful spending at the department. Sanz says the department has orders to reduce taxes to help businesses survive Covid-19 pandemic and thousands of others that paid taxes are now being imported tax-free. He says taxes are down 40% mainly due to less imports as people are avoiding shopping for non-essential items.
In an interview with Pablo McKinney for his TV talk show, Sanz tells how he noticed RD$400,000 was budgeted for coffee mixing sticks. He noted that his coffee was never served with the mixers, and then toured several other offices and these too were using metal spoons, not stick mixers. He told his purchasing department to make sure no more mixers were purchased!
Sanz says his staff has been able to cut RD$55 million in a quick revision of spending at the DGA. He said the DGA is carrying out a financial audit to account for the money that comes in and goes out and another on the processes, to determine how the money comes in and how it goes out. The Chamber of Accounts and the Comptroller General will be carrying out the audits. Sanz says that a private firm is being contracted to do so the same.
Sanz summed up his priorities as improving operations and leaving a legacy with innovation and modernization. The Abinader government vision is to "convert the Dominican Republic into traffic police for international commerce that charges for the service," he said. He explains this is to turn the country into a logistics hub. He spoke of efforts to expand and modernize Manzanillo Port in the northwest and ground customs at the border of Haiti, to synch with the privatized ports on the south side of the country (Haina and Caucedo).
He said he is working to eliminate the discretionary power of the director of the Customs Agency. He says the director of Customs by law has the authority to reduce with just his signature up to 80% of the fines for violations to Customs laws. He said for the time being a committee will sit for the decisions and responsibilities will be shared. He stresses that the Customs Agency does not set the taxes. "We just collect these," he says.
He says Internet imports are here to stay. But he explains Customs will be working with the Tax Agency to identify those who are importing tax-free for resale. Internet purchases up to US$200 are tax free.
Read more in Spanish:
Listin Diario

Pablo McKinney

14 September 2020