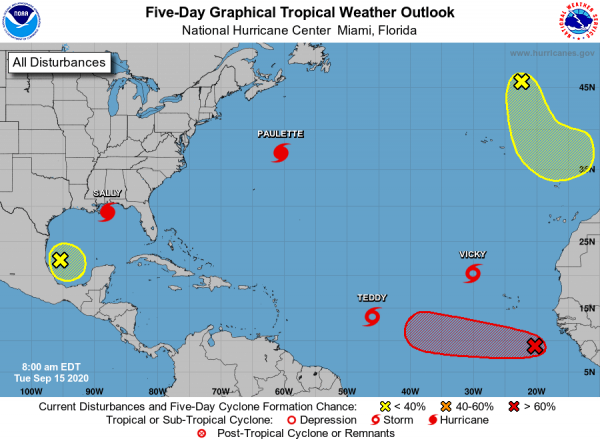 Historically September is the peak time for hurricanes in the Caribbean. Yet this 2020 there is only one more name on the list of names published by the National Hurricane Center. 20 named storms have come our way. Paulette, Rene, Sally, Teddy and Vicky were named in the past seven days. Only Wilfred remains on the 2020 Atlantic Tropical Names list.
Early on the year, the University of Colorado and the National Oceanic and Atmospheric Administration (NOAA) had forecast 2020 would be one of the most active seasons in the past two decades. On 5 August, the NOAA forecast there would be 19 to 25 named storms. Named storms are those with winds of 38 mph (61km/h) or greater. Of these 7-11 are forecast to become hurricanes or one that has winds of 74mph (119km/h) or greater. The hurricane season ends 30 November.
Historically, in the Dominican Republic, all hurricanes have been either the last day in August (David 1979) or in September. This year, nevertheless, the Dominican Republic has suffered severe flooding from tropical storms Isaias and Laura, both early birds this August.
This has been the most active hurricane season since 2005. The 2020 season has gone through Arthur, Bertha, Cristobal, Dolly, Edouard, Fay, Gonzalo, Hanna, Isaias, Josephine, Kyle, Laura, Marco, Nana, Omar, Paulette, Rene, Sally, Teddy, and Vicky. Still to go is Wilfred.
After Wilfred, the National Weather Service will be using Greek alphabet letters to name the storms. In 2005, the sixth letter of the alphabet was used or Zeta in that year when there were 27 named storms, breaking an old record of 21 named storms that dated back to 1933. That 2005, the DR was only affected by lots of heavy rains dumped by Tropical Storm Alpha.
The same contingency plan for naming storms will be used for 2020 when the next tropical storm develops after Wilfred. The Greek alphabet names are: Alpha, Beta, Gamma, Delta, Epsilon, Zeta, Eta, Theta, Iota, Kappa, Lambda…
By now, people are encouraged to have completed preparations for a major storm. These mean pruning trees, ensuring that roof and windows are secure, stocking up on diesel for the power plant, and more. Once weather forecasters say the country is on the path for the hit by a storm, stock up on water, enter any objects that could go flying, and constantly monitor weather reports.
DR1 publishes daily weather reports following the storms that usually start off the African coast. Follow forecaster MikeFisher as he tells it as it is.
Read more:
DR1 Weather & Beyond
14 September 2020